Happy November! Can you believe it's already November? Halloween was a huge success. Munchkin loved his costume and trick or treating.
We started off the morning with some special Halloween pancakes, which were just my pumpkin pancakes with a candy corn smiley face on them. Big hit with Munchkin, but pancakes always are.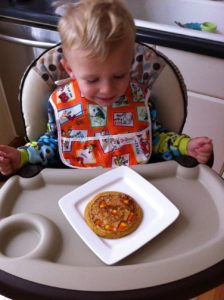 During naptime, I got to cookie making. I had my eye on these cookies for weeks, and I'm happy I found the time to make them. They're basically sugar cookies with a piece of candy corn pressed into them when they come out of the oven. Very simple, very yummy and cute and festive.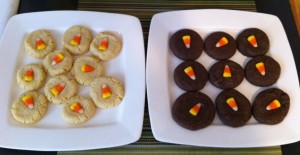 Candy Corn Sugar Cookies
4 tablespoons unsalted butter, very soft
1/2 cup sugar 1 large egg yolk
1/4 teaspoon vanilla extract
1/4 teaspoon baking powder
1/4 teaspoon salt
3/4 cup all-purpose flour*
About 18 pieces of candy corn
*For chocolate cookies, reduce the flour to 1/2 cup and add 1/4 cup of unsweetened cocoa powder
Preheat oven to 350 degrees. Place butter and sugar in a medium bowl; beat until combined. Beat in egg yolk, vanilla, baking powder, and salt. Add flour, and mix until a dough forms. Scoop out level teaspoons of dough, and roll into balls (chill dough briefly if it becomes too soft). Place balls on baking sheets, 2 inches apart. Bake, rotating sheets halfway through, until edges are firm and cookies are dry to the touch, 10 to 12 minutes. Remove from oven; gently press a candy corn into center of each cookie (surface of cookies may crack slightly). Cool on sheets 1 minute; transfer to a rack to cool completely.
We started out our trick-or-treating adventure in our neighborhood. Since Munchkin was little Fankenstein, I decided to be Frankenmommy for trick-or-treating.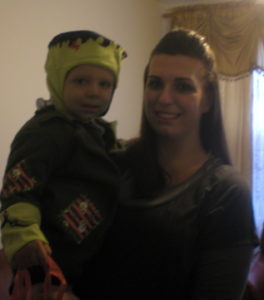 My friend Paul, Munchkin's godfather, came along with us and was dressed like a Psych professor, AKA his future self.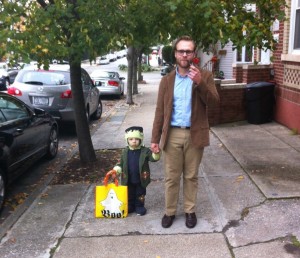 Munchkin was a trick-or-treating champ. He climbed the stairs, rang the bells which he could reach and waited patiently for people to come out with candy. He especially liked when he was able to chose his own candy out of the bowl.  We got a ton of great candy and one house was even giving out bubbles which Munchkin was super excited for.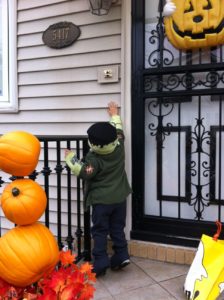 After Tommy got home from work, we headed out to Long Island to do some trick or treating with Arianna.  By that time, Munchkin was getting cranky and coming off his sugar high, so we cut the trick-or-treating short and got some dinner at Houlihan's. I had the Corriander Grilled Salmon, which was amazing.  It was grilled Salmon with delicious mashed red potatoes and grean beans in a Chili butter sauce. Tommy had the Pot Roast which was also delish.
After dinner we headed home. We were all so tired that we pretty much passed out as soon as we got home. For me that means I fell asleep with all that Frankenmommy makeup on.  My skin will be thanking me for it later.
Now it's time to get back to reality and start getting ready for school tonight. I'm bringing in Munchkin's candy to share with my class because we don't need any more sugar in our diets.
Did you go/have trick-or-treaters? What's your favorite Halloween candy?