It's finally summer! Woohoo! I am off from work for a few glorious weeks, so I thought it would be fun to share what I've been eating, now that most of my meals are in my own, lovely kitchen!
I actually have time to make breakfast and am not just grabbing something quick on my way out the door, which is really nice. I have also found that I am not starving first thing in the morning and sometimes my breakfast isn't until closer to lunch.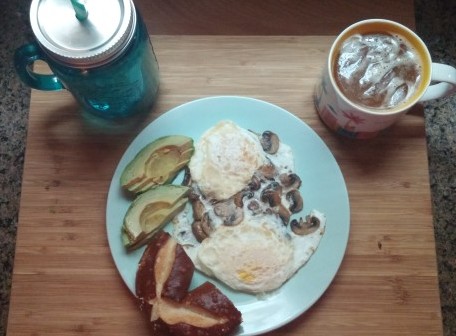 Eggs are always a go to breakfast for me. This was two dippy eggs with sauteed mushrooms and a side of avocado and half a pretzel roll bagel. Yes pretzel roll bagels exist and yes they are as delicious as they sound!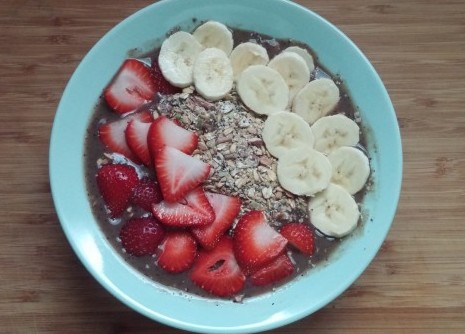 One of my new favs are smoothie bowls. They usually consist of my Shakeology with almond milk and a fruit with some ice. I love to top them with more fruit and granola for some crunch. Even though this is just basically a smoothie, for some reason it seems like they keep me full longer than just drinking my regular smoothies.
Lunch and dinner are pretty much interchangeable because I usually eat last night's leftovers for lunch.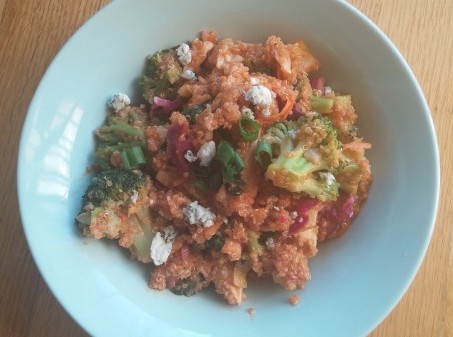 Buffalo chicken quinoa bowls are my latest obsession. I cook up a bunch of quinoa, add in grilled chicken, broccoli and other greens that I have in the fridge and top it all with buffalo sauce and a bit of blue cheese. So good, and 21 Day Fix approved!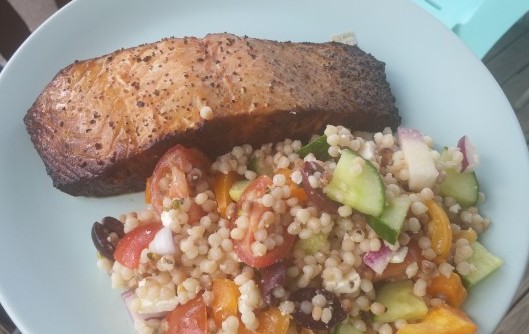 This was my couscous Greek salad with some grilled salmon. Alex and I bought Tommy a set of wood planks for grilling for Father's Day and this was our first time trying them out. Even though I soaked them for almost 3 hours, the planks went up in flames, but at least the salmon tasted delicious!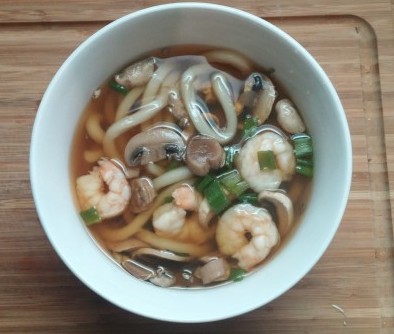 A few weeks back we went grocery shopping at H-Mart and a this soup was one of the samples. After trying it, I had to pick up the udon noodles and soup base and recreate it at home. So good!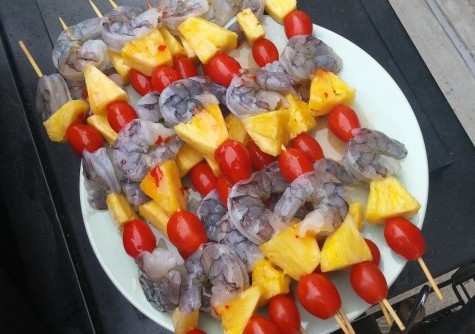 Last but not least are my favorite summer shish kebabs – shrimp, cherry tomato and pineapple. They are so quick to throw together and are ready in a flash. We like to coat them in a little bit of duck sauce mixed with water for extra sweetness, but it isn't necessary. They are delicious either way.
What are your favorite summer eats?