Any mom with boys will tell you that it's hard to get through a week without injuries. Since Alex started walked almost 4 years ago, we have been on a never ending journey of boo-boos, band-aids and  ice packs. When he started hockey this year, I was worried. He had never been ice skating before and in my head I saw him get on the ice, fall flat on his face and quit.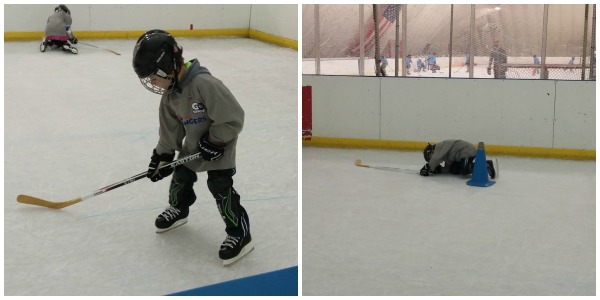 Before he even started, we got an email from his coach with mandatory gear and optional gear. Even though it cost us a little bit more, we opted to buy everything that was recommended. When we got to the first day of hockey, we were a little overdressed. Some of the other kids came in bike helmets, and here was my little guy in full hockey gear with his helmet and cage. The minute that he got on the ice, I knew that the money we spent on his gear was worth it. My worst fear came true..he got on the ice, fell on his face, but thanks to all of his gear he was fine. He got up and kept going, but if he didn't have all of his gear, we probably would have been on the way to the ER. And you better bet that the following week, all the kids in his class showed up with the proper gear.
Even though we avoided an accident, accidents do happen and it is better to be covered.  That's where Aflac comes in … if someone with an Aflac supplemental insurance plan experiences a serious illness or injury, Aflac helps ease the financial stress and provides cash benefits to help pay for out-of-pocket expenses. Aflac supplemental insurance could help cover these and other expenses that may not be fully covered by your major medical insurance:
Broken teeth
Concussions
Ambulance, ground and air
Emergency room visits
Lacerations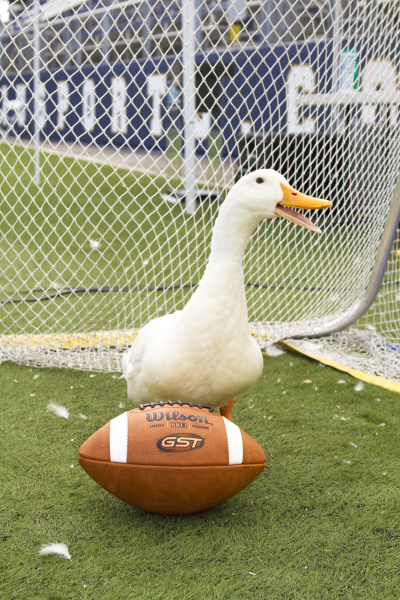 The best way to make sure that you have no out of pocket costs, is to stay safe in the first place. Aflac put together a very good list of Sport Safety tips. These are geared toward football, but I feel that they apply to any sport.
Some equipment may look "optional," but it is important to wear all necessary pads and safety gear each time you play.
Follow the rules. In the heat of the moment it's easy to forget, but there is a reason why things like tripping, pushing and unnecessary contact ate not allowed: they can be very dangerous to both you and your opponents.
Listen to your body.If at any point you feel pain or discomfort while playing, notify your coach and get out of the game. While sitting on the sidelines is one of the most difficult situations a player can face, pushing through injuries increases the severity and keeps you out of action longer.
Take the doctor's orders, After experiencing a sports injury, the first question a player often asks is, "When can I play again?" The answer depends on the injury. Always listen to your doctor. Even if you can't return right away, a doctor or physical therapist might have suggestions and advice on what you can do to stay fit and rehab the injury. It is important to always check with a doctor before attempting any activity following an injury.
Make sure you're covered. Accidents happen. When unexpected injuries happen on the football field, make sure you're prepared with supplemental insurance to help cover out-of-pocket expenses. According to the 2014 Aflac WorkForces Report, 66 percent of U.S. workers could not afford the costs associated with a serious illness or injury. That's why voluntary insurance plans are so important.
As part of their Heisman Sports Safety campaign, Aflac is hosting the Ultimate College Football Experience Sweepstakes. If you are an ultimate college football fan this #AflacSweeps is for you! Three lucky fans will win a trip for two, a pair of tickets to one of three college football games in November, a chance to meet Desmond Howard and more.
Entry Form & Official Rules URL: http://clvr.li/1xiJoTo
Three prize packages will be awarded; winners will be announced Oct. 28, Nov. 4 and Nov. 11.
CONSUMER NOTICE: NO PURCHASE NECESSARY TO ENTER OR WIN. PURCHASE WILL NOT INCREASE YOUR CHANCES OF WINNING. VOID WHERE PROHIBITED OR RESTRICTED BY LAW. Open to legal permanent residents of 50 U.S. states and DC, 21 or older, who have Internet access and valid email address prior to 08/28/14. To enter and for Official Rules, including odds and prize descriptions, click here: https://www.facebook.com/aflacduck/app_143103275748075. This sweepstakes is in no way sponsored, endorsed or administered by, or associated with Facebook or Twitter. For a winner's list (after 11/10/14), visit the Ultimate College Football Experience tab of this page or mail request to Aflac "Ultimate College Football Experience" (Specify Winner List), Media Relations, 1932 Wynnton Road, Columbus, GA 31999. Sponsor: American Family Life Assurance Company of Columbus.
Find out more about Aflac on their social media: twitter and facebook.
I was selected for this opportunity as a member of Clever Girls and the content and opinions expressed here are all my own.