Winter in New York has been rough and my skin was definitely feeling the effects of the cold. Even though it is warming up now, January and February were very harsh on my skin and left me with red, wind blown, dry skin. Since I had a few gift-cards left over from Christmas, I took a trip to Ulta and Sephora to find some relief for my skin, and pick up a few other fun items. Now that I've been using them for a few weeks, I want to share my thoughts on the various products and if they are worth spending your dollars on.
First up are my Ulta finds.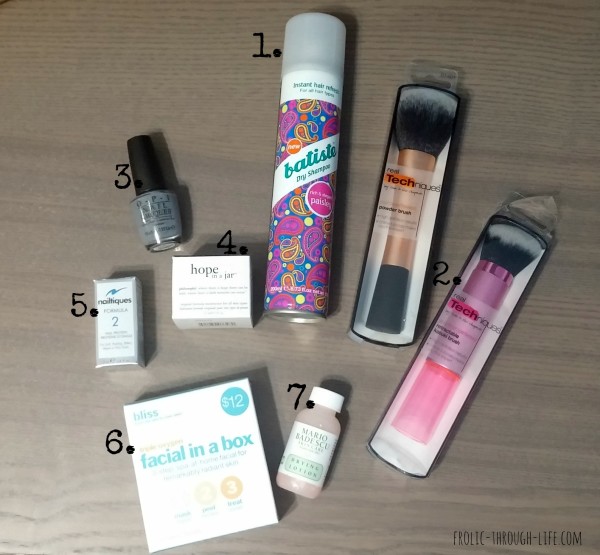 1. Batiste Dry Shampoo. I hard a lot of good things about this brand of dry shampoo, so when I saw it in Ulta I knew it had to come home with me. Overall I really like it. I chose the paisley version based on the fact that it was prettier than the regular packaging and I kind of regret it. The special edition packaging gives the shampoo a different scent and I am not a huge fan of this one. The dry shampoo itself works awesome and I have even gotten compliments on my hair from coworkers after using it. Totally worth purchasing.
2. Real Techniques Brushes. Prior to purchasing these, I already had two makeup brushes from the brand that I was really happy with and these are no different. They are some of the softest brushes I have ever owned and they do a great job in applying products to your face, both liquid and powder. When I purchased them, Ulta was running a buy one get one 50% off promotion, so that made the price even better. Totally worth purchasing.
3. OPI Dark Side of the Mood Nail Polish. OPI is one of my favorite nail polish brands. I love darker shades in the fall and winter and this color did not disappoint.
4. Hope in a Jar. This lotion just did not cut it against the cold and wind. Even if I applied it a twice a day, I was flaky and my skin was still red. I will try it out again when the weather gets warmer and my skin doesn't need a really heavy moisturizer.
5. Nailtiques Formula 2. If you have brittle, splitting nails, this stuff is a godsend. After I get a gel manicure, my nails tend to get weak and peel. I apply this once a day for a few weeks and my nails are strong and shiny again.
6. Facial in a Box. This was an impulse purchase at the checkout, but I did enjoy using it. The little box comes with two facials with three steps. There is a mask, a peel and a lotion. It left my skin soft and hydrated.
7. Mario Badescu Drying Lotion. I heard lots of good things about this pink lotion for a long time on YouTube and beauty blogs, so when I saw it in the checkout I had to get it. Overall, it works very well to dry out breakouts. I also used it on a cold sore and it did a great job drying it out and stopping the spread. Small bottle, worth the price!
Sephora Finds coming soon!
What are your favorite beauty products? Do you stick with tried and true products or do you like to try new things?
*Post contains affiliate links*