The past two days have been a bit hectic, but I'm back with some yumminess to share.
On Tuesday, Munchkin and I headed out to Target for a diaper run because we were running low. At Target, we browsed the toy section because Munchkin has a birthday party to go to on Sunday, but I couldn't find anything that caught my eye.  I think I've been surrounded by 'boy' toys for too long or Target's toy selection is lacking because all they had was Barbies, baby dolls and princess dress up costumes.
On our way home from Target, I had one of my scariest mommy moments.  Just as we were pulling out of the parking lot, Munchkin started hysterically screaming and holding his neck.  I got freaked out so I pulled over, and when I turned around to see what was going on I saw a bee flying out of Munchkin's jacket. I got really scared because Munchkin had never been around bees before and I didn't know if he could be allergic to it and go into anaphylactic shock.  Luckily, he had no reaction to the bite and all that's left is a little red spot.
Now onto the yumminess! Last week, I came home to a huge package with my name on it. I opened it up to find all these goodies.
Thanks to the good people at the FoodBuzz Tastemaker Program and Newan's Own I received yummy tomato sauce, delicious dressings and a super cool flip cam! I might try my hand at making some vlogs in the near future, now that I have a handy little video camera.
Last night, I decided to put that tomato sauce to good use and made some Squashagna – squash lasagna.  I had a spaghetti squash that I bought last week and thought this would be a great way to use it up.  I have to say that I sustained a injury while cutting the squash in half. Who knew knives were so sharp?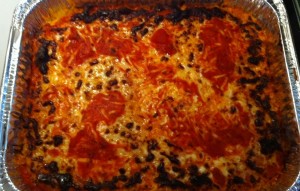 Spaghetti Squashagna
1 spaghetti squash
1 tablespoon olive oil
1 medium onion, diced
3 cloves garlic, minced
1 teaspoon oregano
15 oz ricotta cheese
1 lb shredded mozzarella cheese
Preheat the oven to 350 degrees F. Cut the spaghetti squash in half lengthwise, scoop out seeds and place cut-side down into a baking pan. Bake for about 45 minutes, or until tender. Run a fork through the flesh of squash to separate it into 'spaghetti strands.'  In a skillet, heat the olive oil.  Add in onion and saute until translucent. Add garlic and saute, but do not let it brown. In a large bowl, combine onion and garlic with the ricotta cheese.  In a baking pan, layer your ingredients like you would for a lasagna, starting with the squash layer and following with ricotta, sauce and mozzarella cheese. Bake covered for 35 minutes at 350. Uncover and put under the broiler for last five minutes to brown the cheese.
Now I'm off to Pile on the Miles!
Happy Thursday!
Do you have any allergies? What's your favorite type of squash?