I've been a bad blogger this week, but I've got a good excuse, I promise. This Saturday is my and Tommy's one year anniversary.  Tommy took the day off on Friday and has planned a whole day for us to spend together, but I have a few tricks up my sleeve too, which is why I've been a little MIA from the blog.  I don't want to give away anything that I am doing because Tommy reads my blog, but I will post it on Friday if any of you are interested.
All I will say that I spent way too much time in Michael's yesterday and I'm pretty sure I smell like the potpourri the store always smells like. I also hit up Target where I got suckered into making my first holiday purchases
.  In my own defense, the gingerbread house kit was on sale.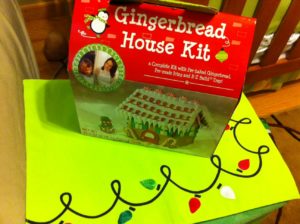 Like last Wednesday. I came home to a yummy dinner waiting for me made by my lovely boyfriend.  He made whole wheat penne with grilled chicken in vodka sauce with a side of zucchini.  The boy has major cooking skills, the chicken was perfectly moist and yummy. The secret is in the marinade. First he marinated it overnight in Italian dressing and instead of spilling out the marinade and cooking the chicken, he had the chicken stew in the marinade until almost fully cooked, before transferring it to a skillet to give it some color.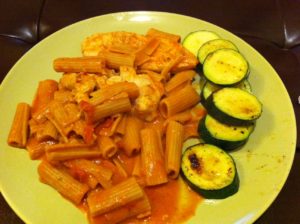 Tommy also made up Dirty Hos to go with dinner.  Get your mind out of the gutter, Dirty Hos are Hoegaarden beer and Framboise Lambic, a French raspberry beer, mixed together.  The drink tastes like a fruity, raspberry beer which I love.  Next time you're at a bar, order a Dirty Ho, not only will you get a great drink, you'll get some funny looks from the people around you guaranteed.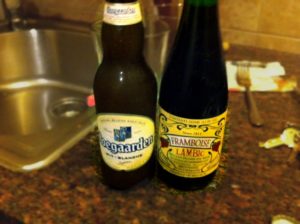 *****************************
The Thankful November list continues!
L is for Love.  Everyone wants to love and be loved and I can say that I am a very lucky girl because I have the love of not only my family, but great friends and an amazing boyfriend.  I also have the love of a little man which is like no other.
M is for Music.  Music is something that can transform your mood and bring you back to a different place in time.  I have tons of songs on my iPod and when I put it on shuffle and a song I haven't listened to in a while comes on, it can bring back so many memories. There are few things in life that can bring you back to a point in time like music.
I'm back to my workshop becuase I've got less than 24 hours to finish my surprises. Have a great Thursday!
When do you start the holidays in your house? What's your favorite drink?