If left to my own devices, I could probably eat Mexican food every day and never get bored. Especially if I'm eating guaco tacos from my favorite Mexican place San Loco. Since that isn't exactly realistic, I often make healthier version of my Mexican favs. My latest creation is a Mexican Spaghetti Squash Casserole. This baby is packed with good for you stuff like veggies and lean meat, but the cheese on top brings it all together and makes it taste so, so good.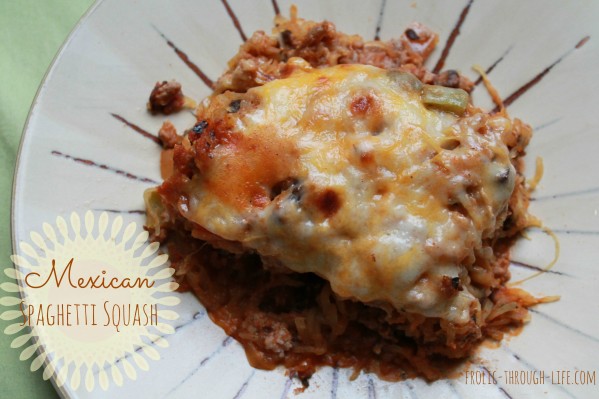 Mexican Spaghetti Squash Casserole
Ingredients
1 medium spaghetti squash, baked and scooped out
1 lb ground meat
1 medium onion, diced
1 pepper, diced
1 can black beans, drained and rinsed
1 can diced tomatoes
Taco Seasoning Mix (I used Trader Joe's brand which contains sea salt, cumin, cayenne pepper, cane sugar, paprika, onion, garlic, black pepper, red bell pepper, oregano, chili pepper, and smoked paprika)
1 cup shredded Mexican Blend cheese
Instructions
Preheat oven to 350 degrees F.
Saute pepper and onion in a skillet over low heat until the onion is translucent.
Add in ground meat and saute until almost fully cooked.
Add the seasoning mix, beans and diced tomatoes and let simmer until ground meat is fully cooked.
In a large baking pan, combine spaghetti squash with the skillet mixture and stir together.
Top with shredded cheese.
Bake for 35 minutes, with the last five minutes under the broiler.
Let stand for 10 minutes before serving.
Hope you enjoy!
What's your favorite Mexican dish?