Even though most of my weekend looked like this…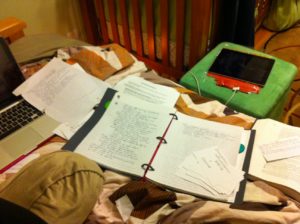 I still managed to have some fun in between study sessions.
On Friday, I finally baked my Great Food Blogger Cookie Swap cookies. I'll share a sneak peak, but a whole post about the swap is coming up, so I don't want to give too much away.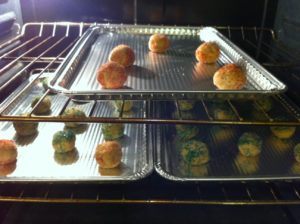 For din din, Tommy and I did the usual, sushi. We went to Sushi Village and chowed down.  I tried a Tempura Fried Banana for dessert after reading good reviews about it on Yelp, but I wasn't too impressed by it.  I do love tempura ice cream though!
After dinner, we watched Crazy, Stupid Love and I loved it! On the surface the movie may look like just another chick flick, but it has a huge twist at the end.  I highly recommend it, especially since we both stayed up for the whole movie which we didn't finish watching until after 1 AM.
On Saturday morning, I headed to the post office to send out the cookies.  I was kind of unprepared and didn't have any bubble wrap or anything to protect the cookies with, so we got some free newspapers from in front of the post office.  So if you're expecting a package from me, you'll also get a really bad, local newspaper to go with your cookies.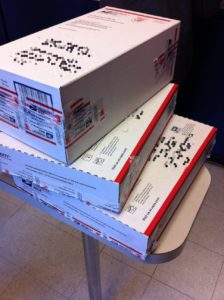 On Saturday night, we did a little shopping. First, we went to Game Stop to trade in some games and pick up two new ones. Tommy got himself a Playstation 3 on Black Friday and I am well on my way to becoming a gamer. Just kidding, but it is fun to play and watch since the games are so much more intricate than they were the last time I played video games like 10 years ago.
We also stopped at Bath and Body Works since I had some coupons. I found the best smelling candle in the world, Cranberry Pear Bellini. It was the last one in the whole store, and they had sold out of the Wallflowers and Car Fresheners in the scent already.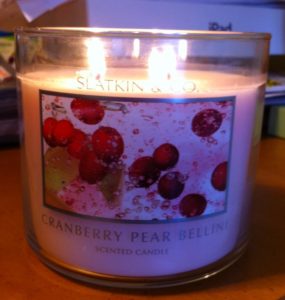 I also got a cute penguin car freshener in the Twisted Peppermint scent.  My car now smells like a Peppermint Mocha a.k.a heavenly. I also picked up a Vanilla Bean Noel Triple Moisture Body Cream, it's my favorite lotion from BBW and I always stock up because it's only available around the holidays. Tommy got a candle and wallflower in his favorite scent, Eucalyptus Spearmint.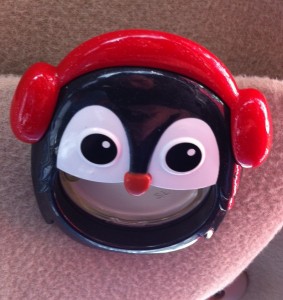 On Sunday morning, Tommy took me for breakfast at a place he's been raving about for over a year now.  Brooklyn Bagel & Coffee Company is located in Astoria, right near where Tommy used to work last year. Lucky for him, at least once a week, one of the guys would stop by in the morning and pick up bagels for everyone.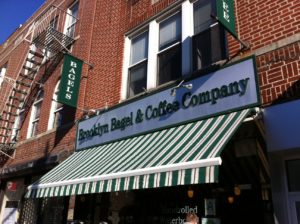 I opted for a Cinnamon Raisin bagel with Cinnamon Walnut Raisin Cream Cheese.  They make bagels in every flavor imaginable and they have a ton of cream cheese flavors, like bacon scallion, jalapeno asiago and German chocolate. The line was pretty long when we got there, but we managed to get a table. By the time we were done eating, the line stretched out the door and past the store front on the sidewalk.  New Yorkers know good bagels and if the line is out the door, you know it's good stuff.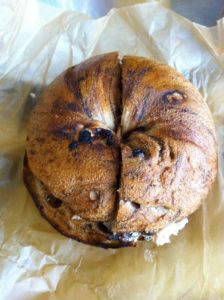 Once the sun went down, we went on a search for houses decorated for Christmas.  A lot of people go all out in our neighborhood, but I found a place online that blows anything I've ever seen before out of the water.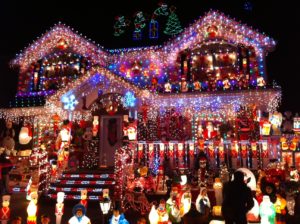 The house is located in Whitestone, Queens and it takes 6 weeks for the owner to set up all the decorations.  He literally has every kind of Christmas decoration I've ever seen and he lets people walk all over his lawn to get a closer look.  Munchkin had a total blast and didn't want to leave.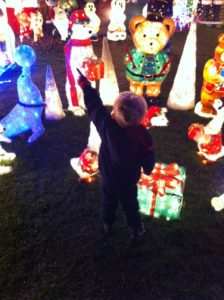 Now I must return to my studying. Only 10 days left until I am done for a whole month!
Have a great Monday!
What did you do this weekend? Do you go all out with your holiday decorations?