Another Wednesday, another WIAW. This one is a bit lacking because I didn't have any snacks after dinner like I usually do. After dinner, my mom asked me to go help her finish her Christmas shopping and we didn't get home until 10! All I did was wrap and head to bed snackless. I'm also starting to think that me finishing my Christmas shopping early is pointless because I get dragged out to the malls anyway with everyone who waits until the last minute. Anyway, without further ado, here is what I ate!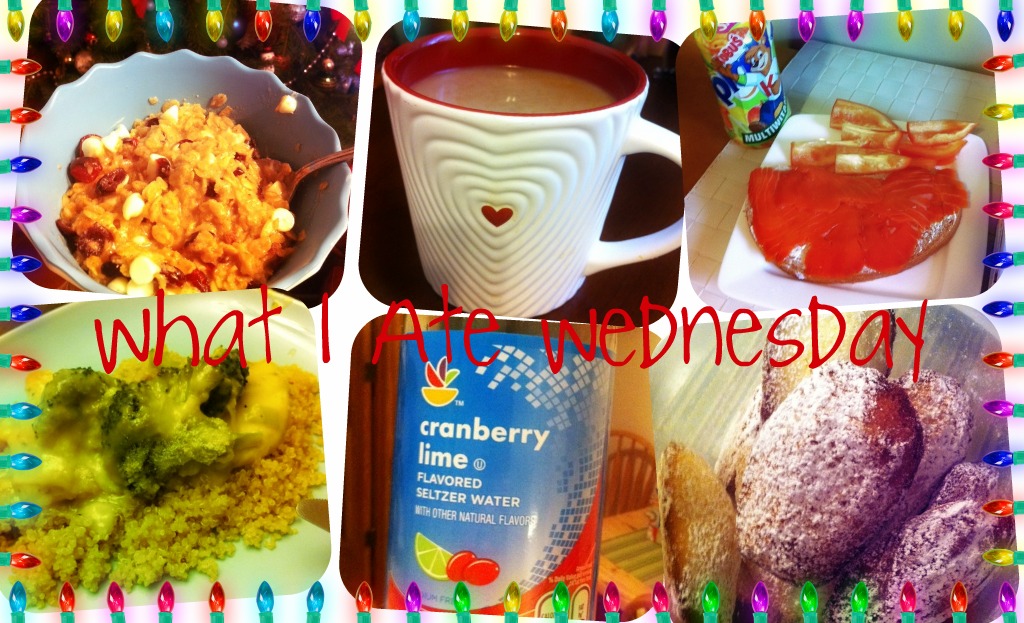 Breakfast was what I call Cranberry Bliss Oatmeal. It's oatmeal with whole cranberries, craisins and a sprinkle of white chocolate chips. I'm a sucker for Cranberry Bliss Bars from Starbucks, and this is my healthier version of the treat. I will be posting my recipe for actual Cranberry Bliss Bars some time this week, but I have to make them first! I also had coffee with breakfast, like always.
Lunch was a cream cheese and lox sammich with a side of red/orange pepper. I love smoked salmon and was so excited to see it in my fridge. It's great when my dad picks up random yummy things at the supermarket.
I broke into my Madeleines for a delicious snack. I know they're supposed to be for Christmas, but in my own defense, I only had one two.
Dinner was a new recipe I tried out. Tommy had been asking me to make Chicken Divan because it's something that his roommate's mom used to make when he was in college. I looked up a bunch of different recipes, before more or less following Eating Well's. I am also amused to no end by the name of this dish. Divan in Polish is rug or carpet, so I kept referring to this as carpet chicken. I served it over quinoa.
I've been trying to cut out soda from my diet, so when I'm feeling like I want a bit of carbonation, I reach for some seltzer and the Cranberry Lime flavor is my fav. Stop and Shop brand is where it's at!
Chicken Divan
1/2 pounds boneless, skinless chicken breast
2 tablespoon extra-virgin olive oil
2 cups diced leek, white and light green parts only
2 tablespoons all-purpose flour
8 ounces reduced-sodium chicken broth
1 can Cream of Mushroom soup
1/2 teaspoon freshly ground pepper
1 teaspoon 21 Seasoning Salute or Italian Seasoning
1 pound broccoli crowns, chopped
1 cup grated Parmesan cheese, divided
Preheat over to 350 degrees F. After marinating the chicken in your marinade of choice, place it in a medium skillet with a tablespoon of olive oil and cook until slightly browned. In a separate skillet, heat 1 tablespoon olive oil and add leek and cook until softened, but not brown. Add in flour and stir to coat the leek. Add in chicken broth,let thicken and bring to a simmer. Add in can of soup and spices, while stirring constantly. Add broccoli and continue simmering. Remove from heat and stir in 1/2 cup of Parmesan cheese. Spread half the broccoli mixture in the prepared baking dish. Top with the chicken, then the remaining broccoli mixture. Sprinkle evenly with the remaining 1/2 cup Parmesan. Bake until bubbling, 20 to 25 minutes. Let cool for 10 minutes before serving.
Have a great Wednesday!
What's the best thing you ate yesterday?