Yesterday was a busy day and by the time I got home from school, I was so ready to crash in bed.
As soon as I woke up, I had a text from my cousin Patricia saying that there was some kind of Grand Opening Beauty event happening at our local Ulta, and asking if Munchkin and I would like to go with her. Is that even a question? So we quickly got dressed and ready to be out the door by 10AM.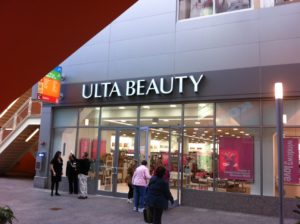 When we got there, we were kind of confused. There was a bunch of people standing around and talking. We didn't really know who any of them were until I started talking to the esthetician who was doing my eyebrows.  She told us that since it was the grand opening of the first Ulta store in NYC, all the big shots came out to see.  There were people from Conde Nast there, the publishers behind magazines like Self, Glamour, Lucky and GQ.  Laura Geller of Laura Geller Makeup was also there, and Munchkin even flirted with her. He was just trying to get mommy free makeup. 😉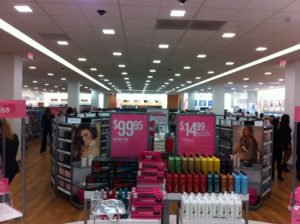 I'm really happy we're finally going to have an Ulta in our area and I bet Tommy is too, because I would drag him to the Ulta in Philly every time we're there.
Since we got to play with our toys in Ulta, we felt it was only fair to go over to Toys R Us and let Munchkin play with some of his.  This was the first time he got to really walk around in a toy store, without being stuck in the stroller or shopping cart, and he loved it.  He had a ton of fun and didn't even protest when we left the store empty handed.  With Christmas and his 2nd Birthday quickly approaching, we'll be getting more toys than we'll know what to do with.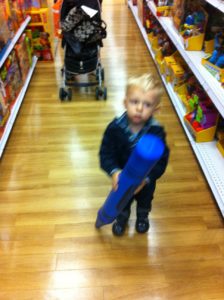 We also grabbed lunch at Panera because I got a buy one get one free coupon. We got a free iced green tea thanks to Tommy's Panera card. Since it's Wednesday, it's time to share what I ate yesterday. I know you're all dying to know, so here we go!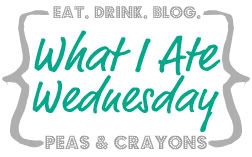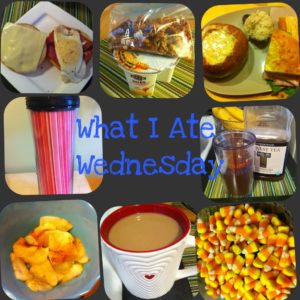 Breakfast was a quick eggwhich with cheese and turkey pastrami and of course, a big mug of coffee.
Lunch at Panera consisted of Broccoli Cheddar soup in a bread bowl, also known as heaven in your mouth. I also had half a Sierra Turkey sandwich on Asiago Cheese Foccacia. For dessert, we all shared a pumpkin shortbread cookie which went unpictured.
Before school, I made myself Fake Apple Pie as a snack.  This is basically one apple cut into slices, topped with cinnamon and stevia and microwaved for two minutes.  Tastes like apple pie, but without the sugar and calories.
At school I had a Greek yogurt with Love Grown Raisin Almond Crunch Granola. I ran out of my single granola packs so I have to ziplock bag it. I also had an iced coffee from Starbucks and stole a few sips from Tommy's frap when he was dropping me off.
I also had way too much candy corn. The stuff is my biggest Halloween weakness. I bought a tub of it at the dollar store over the weekend because I'm planning on making cookies and fudge with it before Halloween, but I can't seem to keep my hands out of it. I've also been enjoying my Honest Tea. They really make the BEST iced teas in the world.
Today is off to a more low key start after the busyness of yesterday and Munchkin and I are just hanging out watching some Mickey Mouse Clubhouse, since it looks like it's going to rain soon outside.
Have a great Wednesday!
What's the best thing you ate today? What you favorite 'toy' store?