With Christmas just a week away, I am back to give you some ideas on what to get that special lady in your life. And ladies, if there is anything that I know about guys is that they are notorious last minute shoppers, so feel free to forward this guide to your hubby/significant others and maybe you will get exactly what you wanted under the tree on Christmas morning!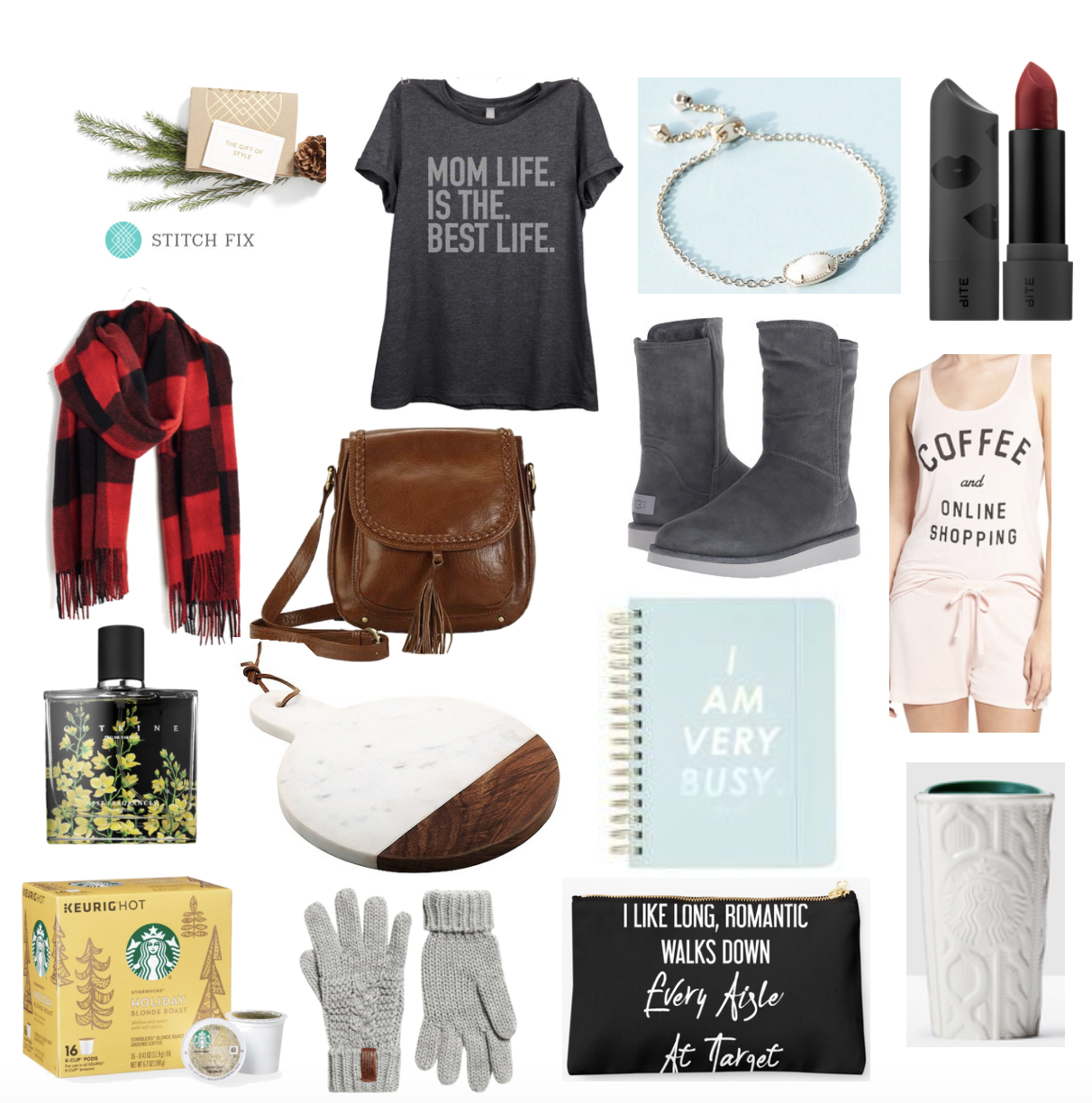 Stitch Fix Gift Card Stitch Fix is a personal shopping subscription service where you fill out a style profile and get a box of stylist picked clothes just for you. This is the perfect gift for busy moms who don't have time to go shopping for themselves, but still want to look good! They even have maternity, petite and [coming soon] plus sizing!
Novelty T-shirts. I am a total sucker for these types of cute t-shirts. They are super easy to throw on with jeans or leggings and you are set for a casual, yet cute outfit.
Kendra Scott bracelet. I received one of these bracelets in my Popsugar Must Have Box last month and fell in love. You can customize the metal color and stone of the bracelet and they effortlessly dress up any outfit. I actually bought a few as gifts for my coworkers!
Bite Beauty Lipstick I am generally not a big lipstick person, but after hearing so much about Bite Beauty I decided to give it a shot. I now own 5 of their lipsticks! They are super moisturizing on your lips and the colors are gorgeous! They have some really cute gift sets too!
Scarf/Cape I am a huge plaid and scarf person. Is there anything better than the two combined? Nope, didn't think so. This cape has arm holes so that you can wear it as a vest to keep you warm.
Hadaki Saddle Bag This is my go-to weekend bag. It is big enough to fit my wallet, keys and phone but doesn't weigh 20 pounds like the purse I wear for work. The leather is a gorgeous cognac color and great quality. It is neutral enough to match any outfit!
Ugg Abree Short Boot I love Uggs, but don't really love the bulky look. The Abree boots are a bit slimmer than the Classic Ugg boots and still super warm and comfortable.
Pajamas Can you have too many pajamas? Nope! Especially not when they are this cute!Gift Guide for Her! featuring @stitchfix! #fixobsession #sweatpink Click To Tweet
Nest Citrine Perfume This is my current fragrance obsession. It is a very fresh scent with notes of lemon, lotus flower and wood. It is actually sitting under my mom's Christmas tree for me!
Marble Tray This is my number one entertaining accessory. Whenever we have friends over, we ALWAYS have cheese and our marble and wood tray is always getting used. This is perfect for anyone who loves to entertain and loves cheese. Side note: this is a heavy item, so be careful when packaging!
Planner I would be lost without my planner and love this super cute one from BanDo. I also recommend Inkwell Press and Erin Condren! (Use these links for $10 off your $50+ planner purchase!)
Starbucks Holiday Blonde Roast This is my favorite K-cup ever! If you love good, strong coffee this is the coffee for you. I actually stock up on these and try to stretch them out throughout the year for as long as possible.
Touch Screen Gloves Gloves are a must have for me, but I hate having to take them off to answer my phone or to text. These are cute, warm and functional!
Pouch I have a big purse in which I carry my life around on a daily basis. Without pouches like this, I would be forever lost. And how cute is that quote!?
Coffee Mug I have a problem when it comes to coffee mugs. If I had the money and room in my kitchen, I would buy hundreds and use a different one each day. This one is going in my stocking. Thanks Santa!
<small> This post contains affiliate links through which I may be compensated. All opinions, as always, are my own! </small>