I've never had good skin, but after pregnancy, my skin really turned on me. I've tried basically everything under the sun – over the counter, prescription and have even gone as far as taking antibiotics, with no real results. Since pharmaceuticals haven't proven to be effective, I decided to turn to a more natural route.
I started reading up on the benefits of Apple Cider Vinegar after Jenn posted her ACV Mocktails, and I figured aside from the smell, adding some ACV into my life can't hurt. Every morning I mix a teaspoon of vinegar with a mixture of half apple juice and half water. The first few days, I had to plug my nose to get it down, but so far so good.
Other than drinking ACV, I've started using it directly on my skin as a toner. I've also decided to give up on soap and all other commercial facial cleansers. Instead, I am using honey, oatmeal, baking soda and coconut oil as my skin cleansing routine. I make a face wash of honey and ground oats (which I grind in the blender) to wash my face every night and moisturize with coconut oil. A couple times a week I use baking soda in place of the oats to make a more abrasive scrub.
If you don't want to give up your skin care routine, but want to incorporate some of these natural ingredients, you can also try different combos to make face masks. Mix honey, oats and some water into a thick consistency and slather onto a freshly cleaned face. Keep on for around 20 minutes.You can also make a baking soda mask, which is very effective for acne, by mixing baking soda and water in a 2:1 ratio. There are tons of variations on natural face masks, some even use yogurt, so you can put that Cho to good use!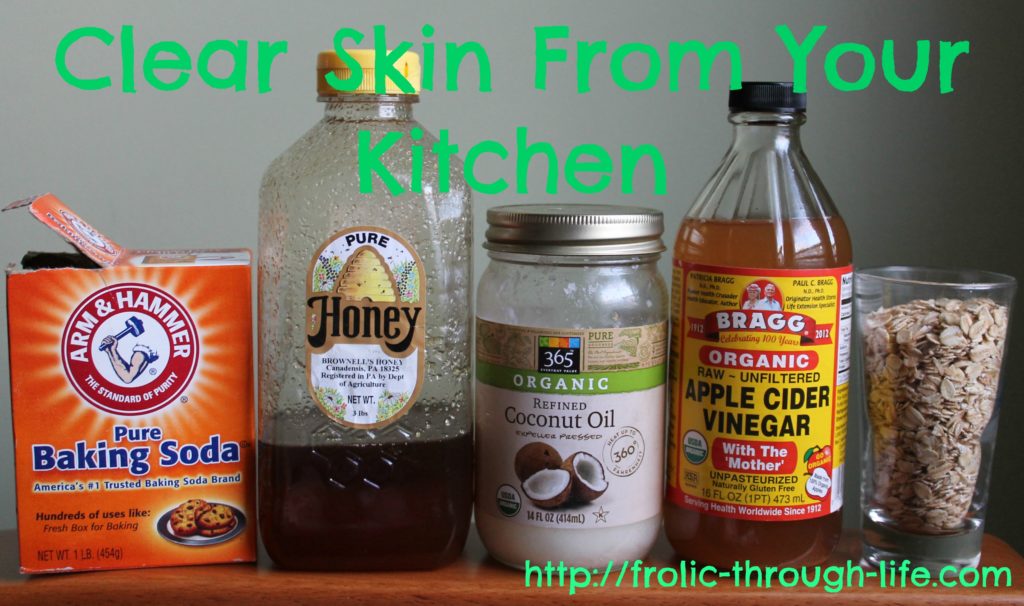 Now you might be wondering, why these things?
Apple Cider Vinegar is plain and simply good for you. Aside from giving you cleaner, healthier skin, ACV supports a healthy immune system, promotes digestion and ph balance and can even help with muscle soreness and sore throats.
Honey is a natural antiseptic which prevents bacteria from growing on you face. It also aids in the healing of wounds and is a natural moisturizer.
Baking soda is a physical exfoliant, which makes it highly effective at removing the dead skin cells without causing excessive irritation. It is also a neutralizer, which can neutralized acids and bases which your skin comes in contact with.
Oatmeal treats three of the conditions that contribute to acne – excessively oily skin, harmful bacteria on the surface of the skin and an excess of dead skin cells. Oats absorb and remove excess oil, remove bacteria and exfoliate dead skin cells.
Coconut oil l is a source of two of the most powerful anti microbial agents found in food -  Capric Acid and Lauric Acid, the same acids found in breast milk to protect babies from infection. It is also full of Vitamin E ,which ensures proper functioning of sebum glands and clears blockages, treating the cause of acne.
——————————————————————
I've only been using these ingredients for about a week, and haven't gotten any new breakouts. So far, so good. Hopefully these things will prove to be effective so I can do a before and after post. Keep your fingers crossed for me!
12/31/12 UPDATE: I've been following this skin care regimen for a little over three months now and I think it's time for an update. I am happy to report that my skin has improved. I love how soothing the coconut oil is on my skin and I haven't experienced my usual wintertime flakiness thanks to it. I also haven't had any breakouts other than a hormonal pimple here and there, during that time of the month. I've seen a decrease in blackhead and in the sensitivity of my skin. Overall, I am happy I started following a more natural path for my skin, and I don't see myself returning to overpriced store-bought products anytime soon. Good luck!