Thanks to social media, summer mom guilt is stronger than ever. Anytime you log into Facebook or Instagram, you are inundated with pictures of your friends with their smiling children, doing tons of fun summer activities. Then the thoughts start to creep into your head.  Why don't I take my children everywhere like my friends? Why can't I provide so much fun and excitement? I am a terrible mother! Guess what – you're not.  Here are my top five tips to keeping summer mom guilt at bay.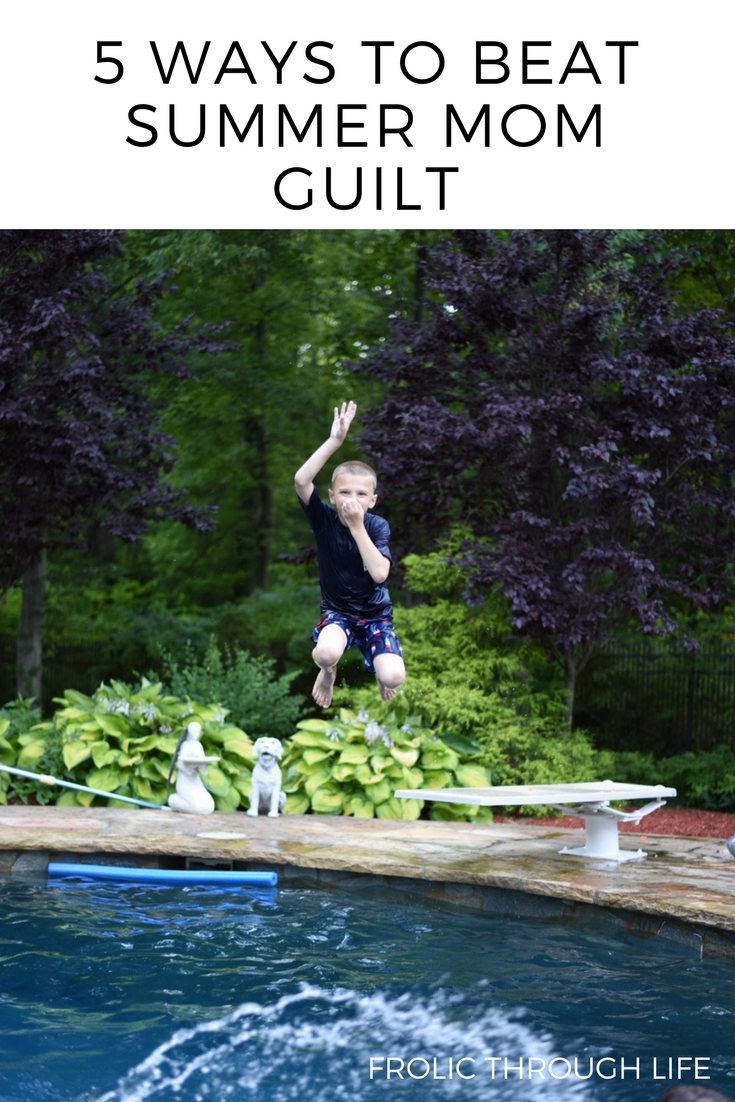 Set realistic goals. If you are lucky enough to have time off during the summer, don't feel bad if you don't have fun activities planned for each day. For one thing, it's not realistic. If you spend the whole day at the zoo in the sweltering sun, you will not feel like trekking out the next day and neither will your children. My goal is to have fun things planned for two days a week. This way, we have something to look forward to, but we also aren't going crazy trying to have all the fun, all the time. If you do have to work, I recommend planning some easy fun activities in the afternoons, or planning one larger activity on the weekend. Something as easy as playing board games after dinner, going out for ice cream or seeing a movie under the stars at your local park is exciting and a change from the mundane.
Put your kids in camp. Alex's school is wonderful and offers a free/low cost summer camp for children. They go on cool trips once a week and spend the rest of the days playing games, learning to code, doing science experiments and just hanging out with friends. He wakes up every morning asking if today is a camp day so on the days I need to run errands, or having nothing exciting planned at home, Alex gets to go to camp. I get some quiet time at home to get things done and he gets to hang out with his friends – win-win situation.
Be Present. When you are spending time with your children, be there and only there. Don't scroll through social media or answer unimportant texts and emails that can wait. Giving them your undivided attention is worth way more than being there all day, but being distracted.
Let them be bored. Boredom leads to creativity, and if you micromanage every minute of your children's days, they will not have time to be bored. When we were kids, we spent the long summer days bored and were able to invent games and other activities for ourselves. Let you children have the opportunity to do the same. It's good for them!
Get the kids involved. Don't put it on yourself to plan everything you do this summer. Ask your children what they want to do, and if possible, do it! You kids will feel proud that they got to plan your activities, and I am willing to bet that they are not going to be things that are super hard to accomplish. When I asked Alex for what he would like do to while we on vacation, his answer was swim in the pool. Easy peasy!
And most importantly, remember that no one is posting pictures of their children crying and whining that they're hungry, even though they just are 12 minutes ago – only the best, curated moments of their family outings. Social media is not real life, and we can't compare our moments, the good and the bad, to anyone's feed.
I hope that my tips will help with the summer mom guilt. When those bad thoughts start to set in just remember, the new school year is just around the corner!