I love summer dinners. I love being able to throw some protein on the grill, make a quick salad and call it a night. I love the smell of the fire pit and dinners outside as the sun sets. I love fresh, light meals with fresh veggies and big flavors and this Italian Pasta Salad is all of that and then some.  With the unofficial start of summer just a few days away, this salad is perfect to make for your Memorial Day BBQs.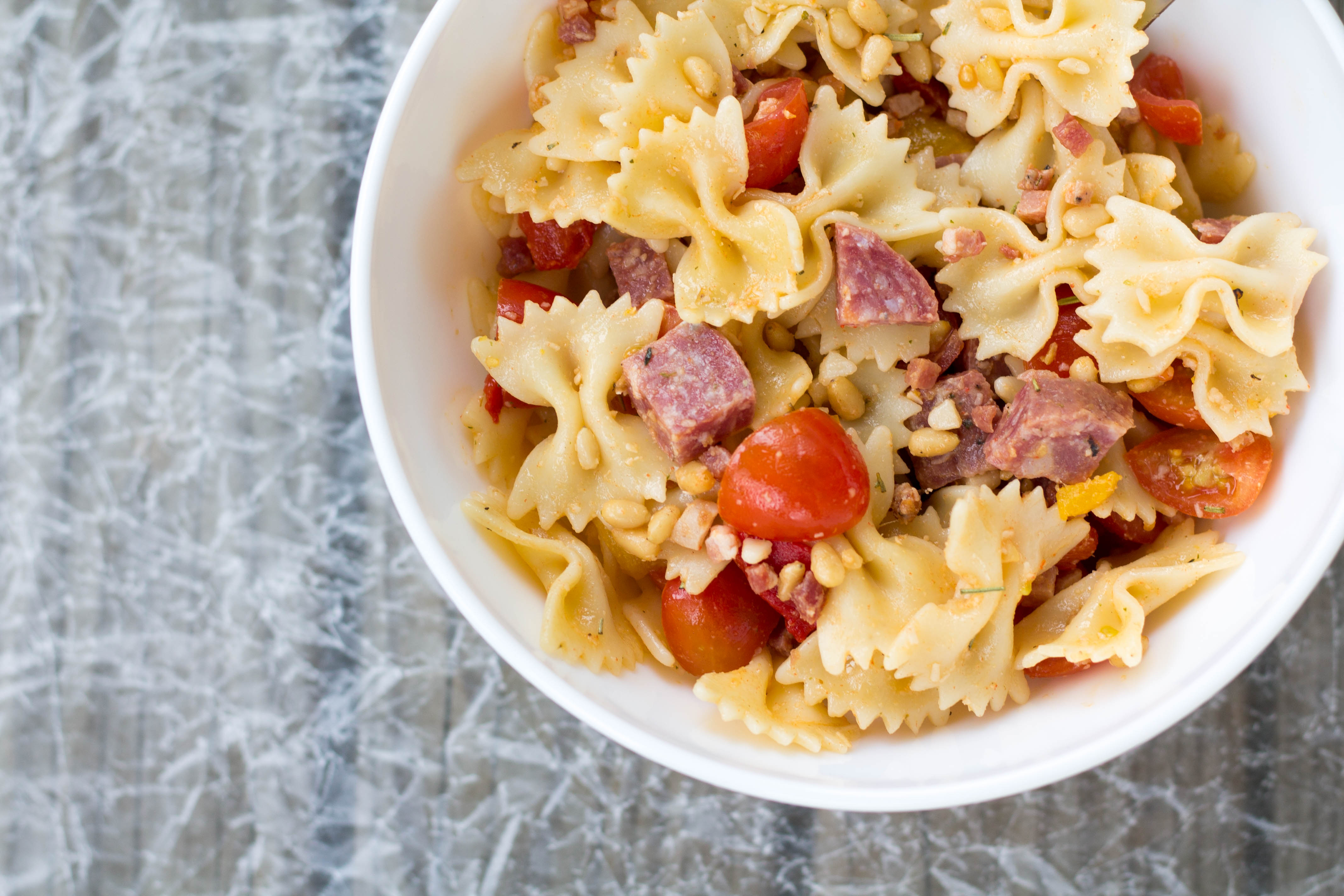 Italian Pasta Salad
Ingredients
1 lb bowtie pasta, cooked al dente and cooled
1 pint cherry tomatoes, quartered
1 8oz jar roasted peppers
5 oz sopressata, cubed
½ cup pine nuts
3 tablespoons olive oil
2 teaspoons Italian seasoning
pinch red pepper flakes
½ cup grated Parmesan cheese
Instructions
In a small bowl, combine olive oil, red pepper flakes and Italian seasoning and set aside.
In a large bowl, combine the remaining ingredients.
Pour in olive oil mixture and mix well.
Add salt and pepper to taste.
Refrigerate at least a half hour before serving for best results.
We were having some friends over last weekend for a BBQ, and I used the ingredients we already had in our fridge to put together this simple and tasty Italian Pasta Salad. The salad comes together in no time, but packs a ton of flavor thanks to the roasted red peppers, sopressata and spices.
Even though it was super simple, it was a big hit. This recipe makes a big bowl of the salad, so we had plenty left over for lunches for the next few days. You can also control the spice level to make it more child friendly. Omit the red pepper flakes and the salad stays flavorful, without the kick. Alex loves bowtie pasta, so he was all over this salad.