If you have a toddler, or know a toddler, you know that they are obsessed with toys. Having a three year old, my life is filled with toys. There are toys in every room in the house and at any given point in time, I have at lease three toys in my purse, even when I'm not with my little man. I guess you can say that I am kind of a toy expert. When VTech contacted me to review their Roll & Learn Activity Suitcase, I was super excited. We have a bunch of VTech toys, and Alex loves them all.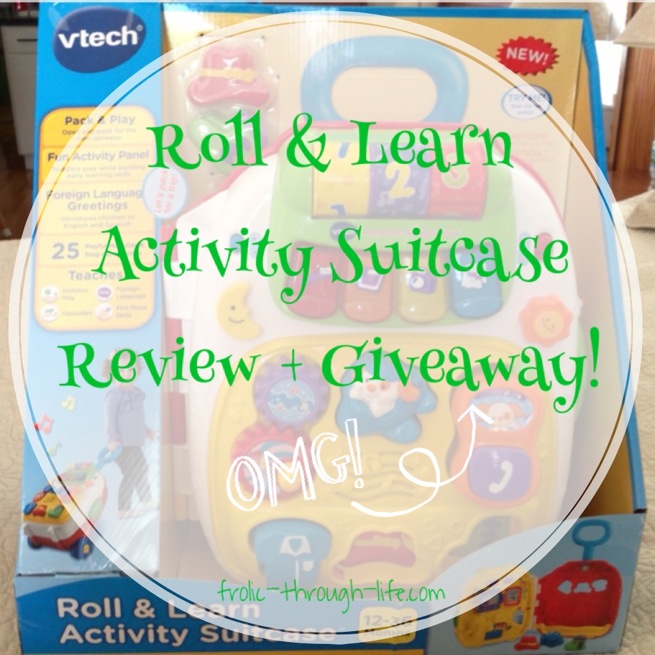 The Roll & Learn Activity Suitcase is recommended for ages 12 – 36 months. Since Alex is a bit over the age limit, I thought it would be perfect to pass on to my niece who is 8 months. When the package arrived, Alex was super excited to open it, like he is with every package. As soon as he saw that it was a toy, it was over. We turned it on (batteries included!) and I told him he could play with it, but we wouldn't take it out of the box because it was for Baby Zuzia.
Even without taking it out of the box, Alex had a blast with it. He loved the songs, playing with the keyboard and pretending to talk on the little doggy phone. He was also very eager to try the sorting parts, but I told him we had to wait until we brought it to Zuzia's to try those out.
While kids love almost anything colorful and loud, parents are more objective when it comes to toys. I thought that this was a great toy for a number of reason. First of all, it comes with different volume settings. There is nothing worse than a blaring toy that your child loves, but you can't turn down. Second, I love that the toy is bilingual. Birth to age five is the most critical language learning time in a child's life, and even learning a few words and songs from a toy can foster a love for learning different languages. Third, I really like the suitcase design. Whenever we go away, Alex is very eager to pull the suitcase, which usually ends with him tipping it over and dragging it on the sidewalk. This would be a great toy to bring along, have him pack his toys inside it and make him happy that he is able to help. Also, since it is a suitcase, all of the functions are travel themed, which is nice compared to the usual alphabet and numbers.
Finally, I can really see that this is a toy that is really pleasing to all ages. Alex is over the recommended age and it kept his attention. He played with it over the course of a few days, and kept going back to it. While my niece is a little young to fully appreciate it yet, it also kept her attention. She liked the bright lights and the songs and Alex enjoyed pressing the buttons and showing her how to use it. This is a toy that you can buy for a child on the lower end of the age range and they will enjoy it for a very long time. I have purchased a lot of VTech toys over the years, and I have never had a bad experience. They are durable, even when your toddler is going through a throwing phase, and most importantly to me, they are educational. Kids learn best through play, and I know that Alex had learned a lot thanks to his toys.
So now that I've convinced you that you need one of those for the little one in your life, I'm going to do you one better. VTech is being amazing and letting me give away a Roll & Learn Activity Suitcase to one of my readers! Enter below and I will be picking a winner next week!