Last Sunday, I ran my second spartan sprint at Blue Mountain, Pennsylvania. The Blue Mountain Sprint is nicknamed the mini Killington and is supposedly the most difficult of the sprints. Seeing as this was only my second Spartan Sprint, I can't really compare it to my experience at the Tri-State Spartan Sprint in Tuxedo. If you watched my video about my first Spartan Race, you know that I really didn't know what to expect going into the race, and it is something that you have to experience yourself to understand it. Going into this race, my mindset was completely different. I knew that it was going to be difficult, maybe even a lot harder than my first Spartan, but somehow I felt much more ready and so much more excited!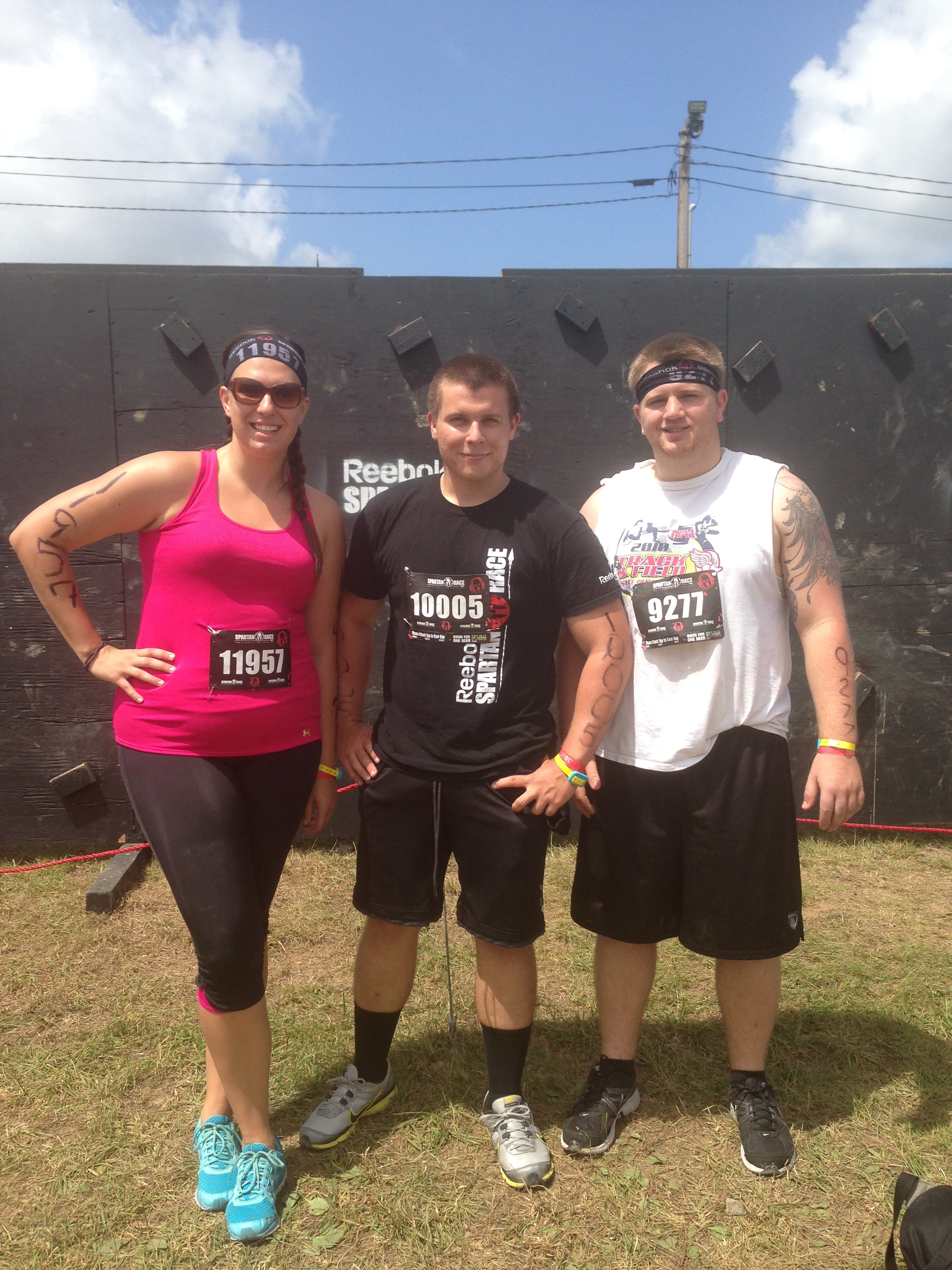 We didn't start until 12:45, but we got to the race site around 11 to give ourselves plenty of time to pick up our packets, check our bags and mess around with the challenges. We watched a bunch of waves go out and heard that we would be going straight up the mountain along the path of the ski lift. The whole way up, we would climbing either a black diamond or a double black diamond ski slope. I was thinking that I can't get down these ski slopes, let alone get up them.
Soon enough it was time to line up for the 12:45 heat and all I could think was how much the climb up the mountain was going to stink in the heat and sun. The beginning wasn't bad. I took the advice that one of the Reebok reps gave me at my first Spartan – Go slower than you think you want to. While most of the crowd sprinted out of the start, I took my time. I got to the first obstacle with little trouble. The first obstacle was an under, over and through set of walls. Easy enough. The second obstacle was the sandbag carry, which I had heard would be the worst part of the day. The sandbag carry was straight up a double black diamond slope that was difficult to stand on, let alone climb up carrying a 40 lbs bag. I took my time and made it to the top, with a lot of breaks.
I spent some time at the top waiting for one of my teammates, and it was fun to look down and see how much I had just climbed and to cheer on others making their way up. The views off the top were amazing and I had wished I had a camera to snap some photos.
After the sand bag carry, it was more uphill climbing, but I knew the worst was past me. There was at least one more obstacle before I reached the top and it was climbing up a steep slope with the help of a rope. Once at the top there were five obstacles in a row – pulling a weight on a chain, tire flipping, spear throw, monkey bars and lifting a 40 pound weight on a rope and letting it back down. Since all the obstacles were one right after another, there was some waiting, but it wasn't bad.
Once the obstacles were complete, it was all downhill from there, literally. On the way down, we had to climb down another steep slope with the help of a rope, climb a cargo net, get over a 7 foot wall and crawl through two barbed wire mud pits. There was also another 7 foot wall at the end of one of the mud pits where I totally fell off the top right into the crossbeams.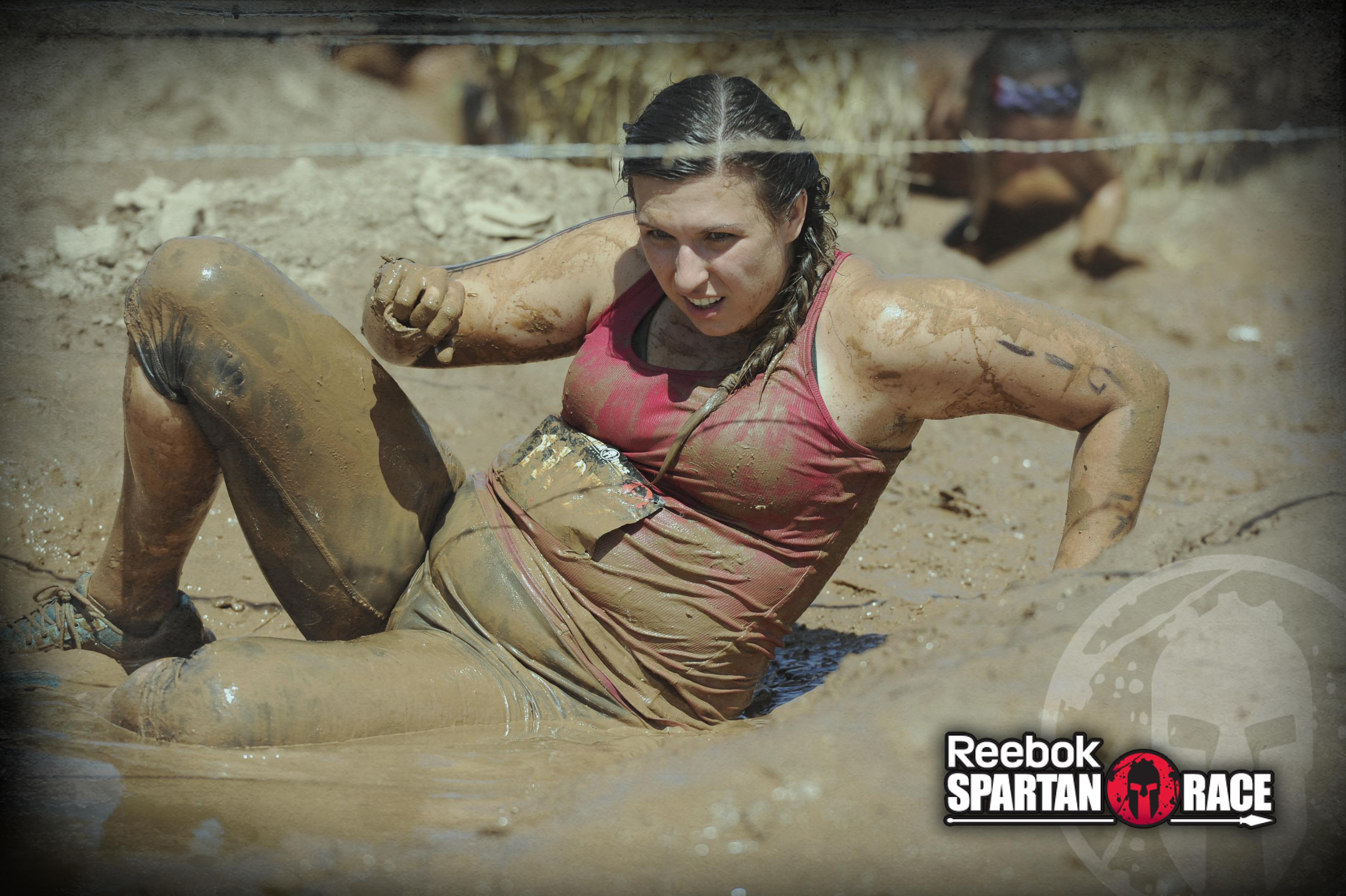 But I can say it was all well worth it to go down the giant slip and slide into the lake. I heard about the slip and slide at the beginning of the race and every time we emerged out of the woods, I would cross my fingers that it was time to go down the slide. When we finally made it there, I was pretty freaked out, but it was so so fun. Swimming through the lake also felt amazing after being it the heat from the last couple hours.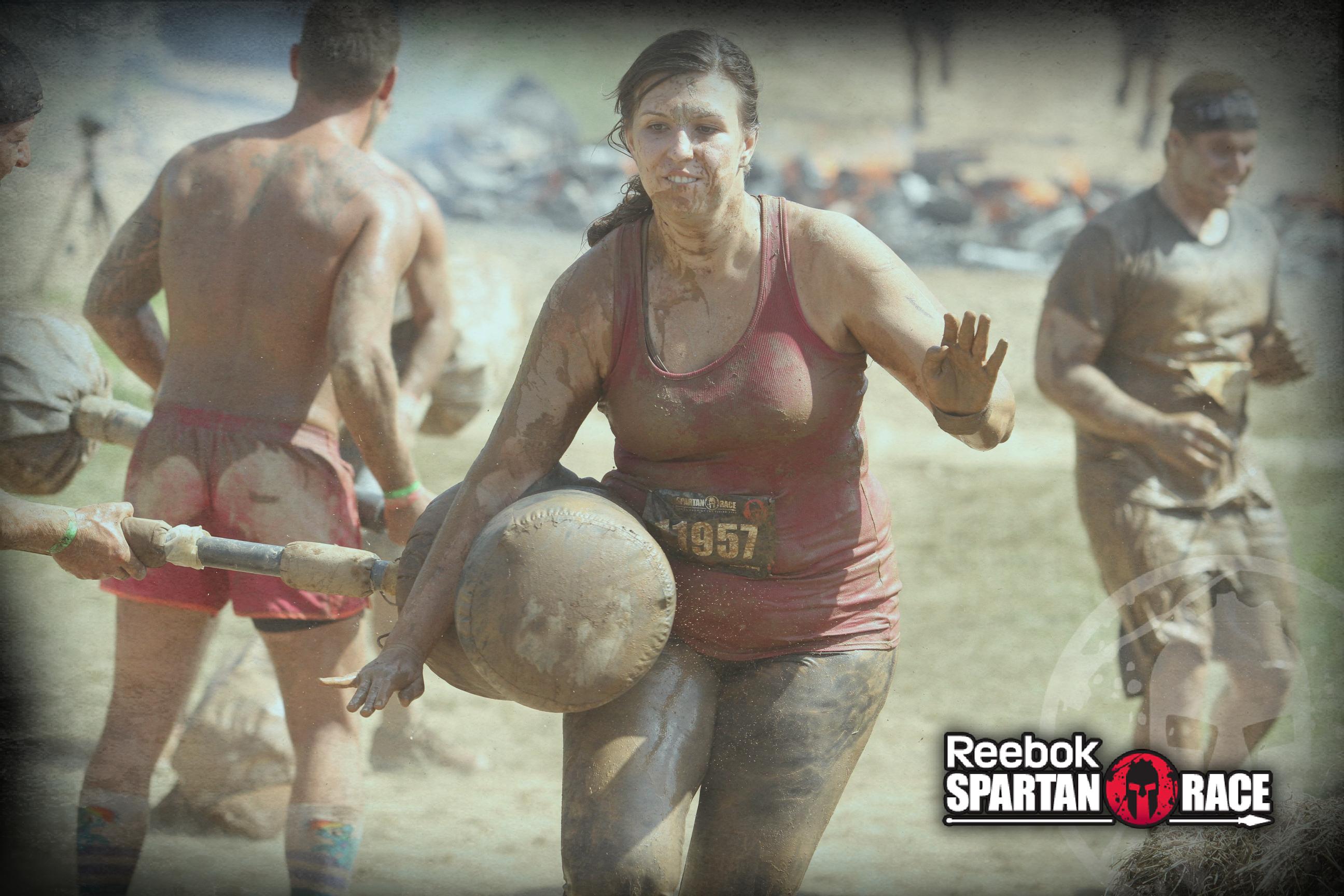 We crossed the finish line at 3:08:10. I knew that I could have finished earlier, but when you're a team you work as a team and don't leave anyone behind. It felt great to cross the finish line, get my medal and stuff my face with a banana because I was starving!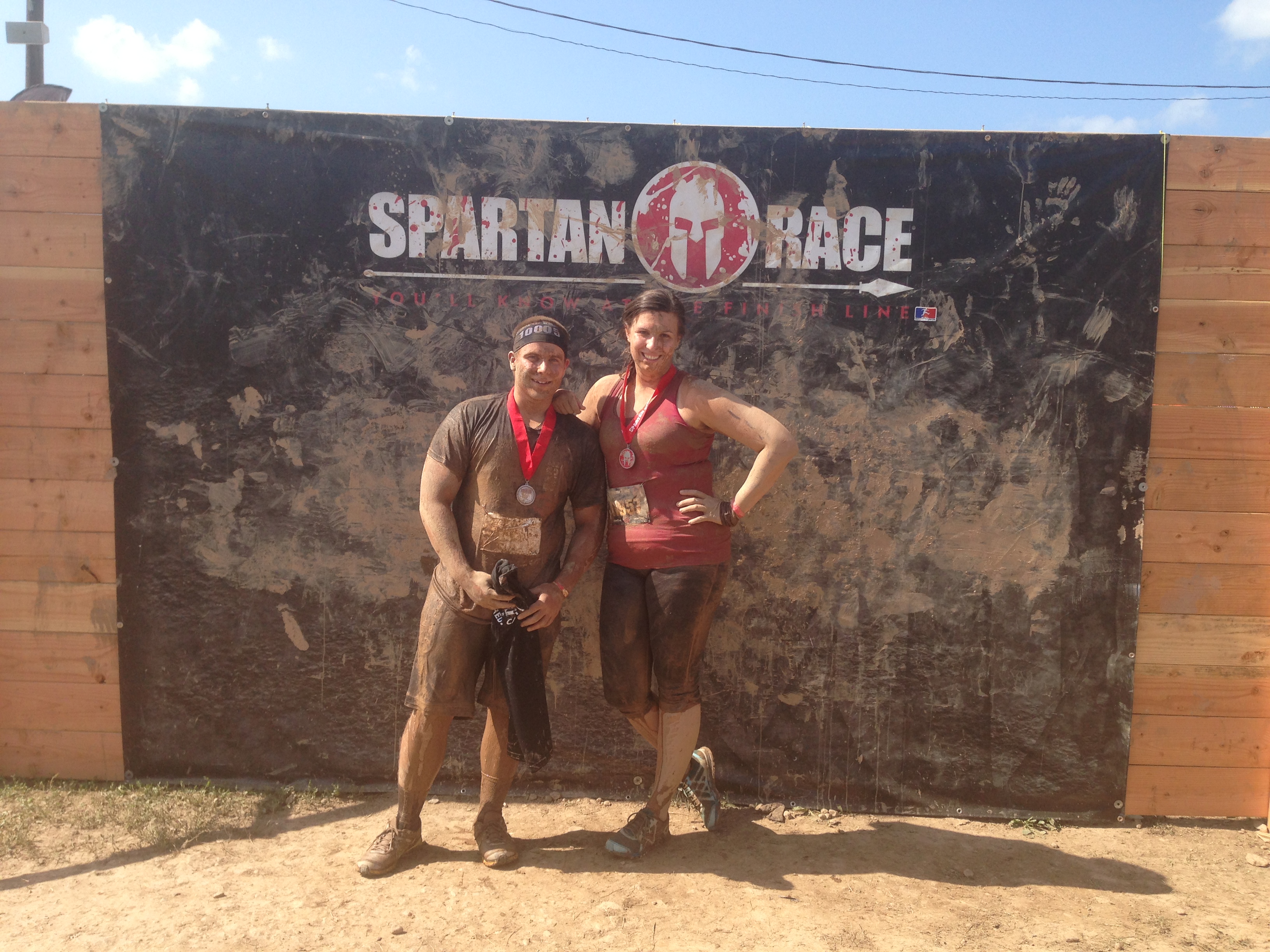 After washing ourselves off a bit, it was time for my celebratory beer.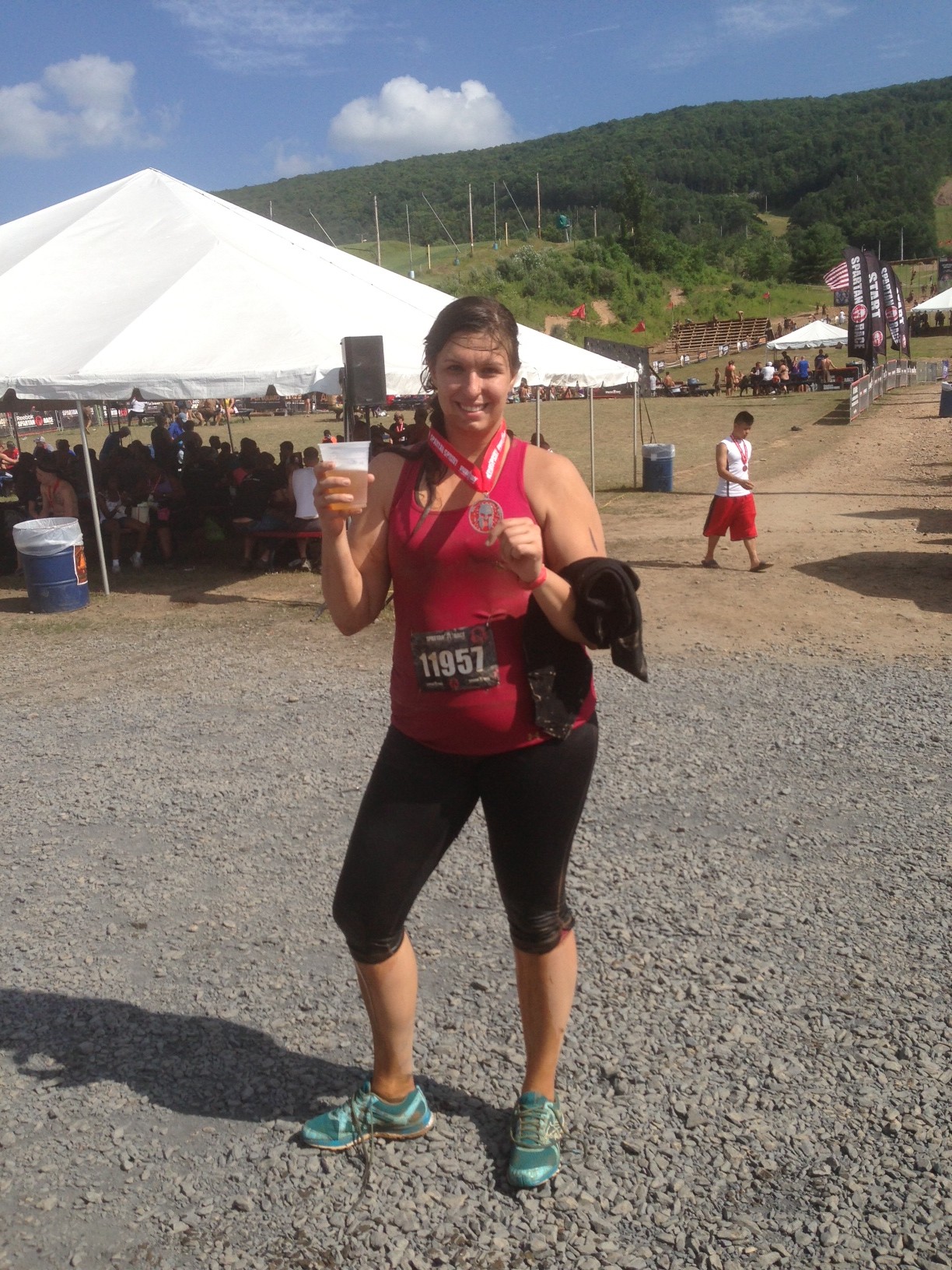 Beer never tasted sooo good!
And since I can't get enough Spartans, I am already signed up from the 2014 Tri-State Sprint in Tuxedo New York. I think I also want to do the CitiField Spartan, to get a taste of the clean version of the race. I think 2014 may also be the year of the Super Spartan for me, but I have a long time to decide about that!
Have you ever done a mud run? What obstacle would you want to try?