I don't know if I have mentioned it lately, but I am so flippin' in love with Crossfit. With the start of the Open, the box seems to be abuzz with an air of excitement, and for good reason. Team Dynamix is kicking major booty! They are 4th in the Northeast and 12th Worldwide after 13.1, and I am so proud of all the amazing athletes that I get to train alongside.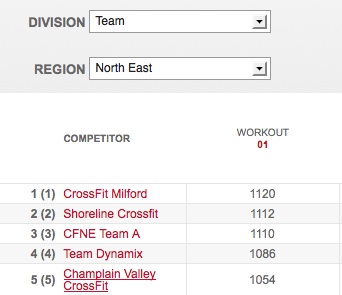 Speaking of training, I wanted to share the WODs that I have done so far. I think this will serve as a good way for me to look back and see how far I've come.
The Friday before last, I got to the box for 7pm class to find that there were only 3 of us there for the WOD. After our 1 mile run warmup, we practiced our snatches before taking on Isabel. I finished in 4:42, but I did the WOD with only the bar. It had been months since I last did snatches and I really want to focus on form before loading on the weight.
Last Tuesday, it was squat day. We started out with a warmup of 25 burpees and 50 situps before working on out 1 rep max of front squats. I only got up to 50 pounds because my form was a bit shaky and my wrists were killing me! I think I need to look into getting some wrist wraps, or maybe my wrists need to get used to the movement. The WOD was 5 rounds of 9 squat cleans and 6 hand stand push ups. I once again only used the bar and did the HSPU modified, as well. Even with the modifications, it still kicked my butt, and that is why I love Crossfit. No matter your fitness level, you will get a workout that works towards being able to do the RX WOD.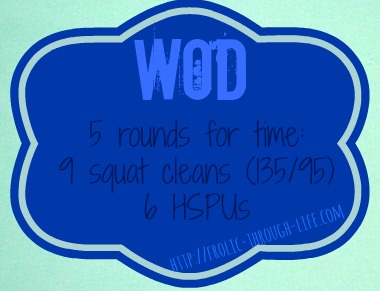 I almost didn't make it to the box on Friday between complications with the seminar I was supposed to be attending at school and the 8PM WOD, I had planned on attending, being full. Luckily, Tommy, amazing as always, made it work and I was shocked to see 13.1 on the whiteboard when I arrived. As much as I wanted to sign up for the open, I knew I just wasn't ready for it this year. I got through 142 rounds with just using the bar for the snatches. It was also an awesome experience to see the real competitors kill the WOD! So very humbling too.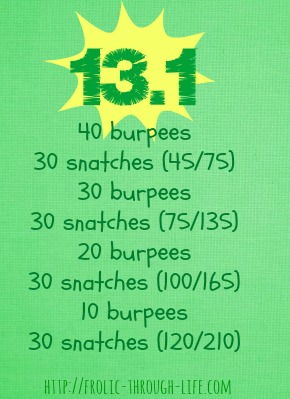 I am falling into a routine with my Tuesday and Friday WODs and I look forward to them all week long. Right now, two times a week is the perfect schedule for me, between work, school and my two men, who have "guys' nights" every time I go. Munchkin has even told me to go to the gym so he can have "guys' night" with Tommy. Hearing those words come out of the little man's mouth reassure me that I am doing the right thing for myself and for him!
What was your favorite workout of the past week?