On Sunday, I had the opportunity to workout with two trainers from The Fitness Cell NYC thanks To J&R Music World's Health and Safety Weekend.
I attended the 2PM class, and let me tell you, they kicked my butt. I arrived a bit early and got to speak to the two trainers, Larry Twohig and Heather Culton. Heather works primarily in Pilates, yoga and dance based workouts while Larry does more traditional strength training.

Our class kicked off with a Pilates "warm-up" with Heather. This was my first time doing Pilates with a real trainer and she kicked my butt. Heather took us through a ton of different moves that focused primarily on abs, legs and butt. My legs and abs are still feeling it and it's Thursday! It's crazy how such tiny movements can make you sore for days. I was honestly scared to see what Larry had up his sleeve because the warm up was definitely more than just a warm up.
Larry took us through a circuit of moves that strengthen every muscle in your body and you can do anywhere because they don't require and equipment!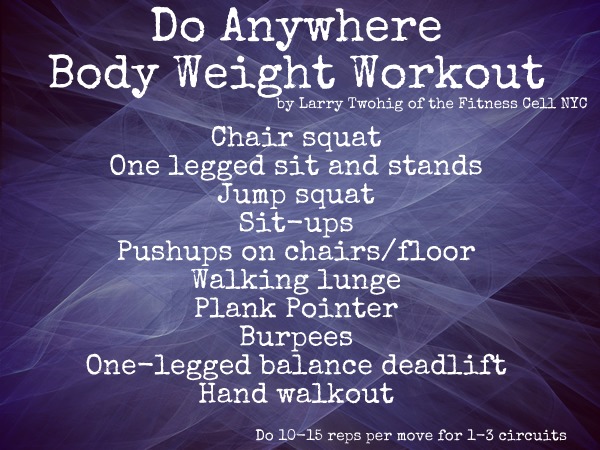 We were all huffing and puffing after 1 circuit, but Larry told us that he usually has his clients go through it more that once, the massochist!

After the circuit, we did some stretching with Heather. She helped us all stretch out individually, by doing a really cool leg lift and twist move, which felt amazing after such a tough workout. I left super sweaty, but feeling amazing. It had been a while since I had been worked so hard, but it felt great to get through it. I have a feeling that I'll be turning to this circuit quite a bit because it really kicked my butt.
Have you ever workout out with a trainer? When's the last time a workout reaaaally kicked your butt?