I had really good timing with my weight purchase. This week's Bootcamp strength workouts all include pyramids, where you start with a lighter weight do 15 reps, switch to a moderate weight and do 10 reps and end up with a heavy weight and do 6-8 reps of each move. The last reps of the moves were not easy, but I felt really strong being able to get to 8 reps on each of the moves. I followed the weight training with 30 minutes of intervals on the elliptical and stationary bicycle – a solid workout to start the week off on the right foot!
Another thing that started off my week on the right foot, was the fact that I got my Mental Disability Law Midterm Grade back and it happened to be an A+. I didn't even know you could get an A+ in law school! I was over the moon when I check it and I wanted to e-mail my professor to make sure that she didn't confuse the exam numbers (because all the grading is done anonymously by exam number), but Tommy told me that I am a dumb dumb and need to be happy instead of doubting myself, so happy I am!
************************
Over the weekend, I made something that I literally cannot get enough of. I've eaten it for dinner on Saturday, Sunday and Monday and there is still enough for today! I love leftovers. I loosely followed Jamie Eason's recipe to make Three Bean Turkey Chili.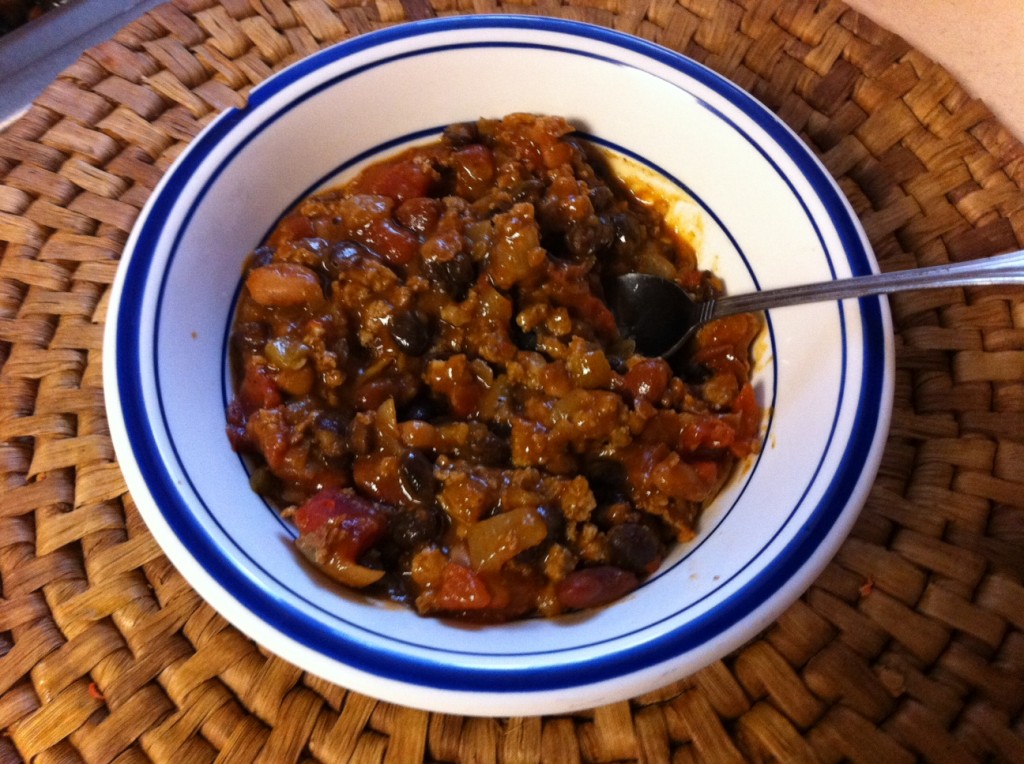 Three Bean Turkey Chili
1.5 lbs. extra lean ground turkey
1 large chopped onions
2 – 4 oz. cans of diced green chilies
1 – 15 oz. can Red Kidney beans (drained)
1 – 15 oz. can Black Beans (drained)
1 – 15 oz. can Pinto Beans (drained)
2 – 14.5 oz. cans Diced Tomatoes (do not drain)
1 packet Chili Seasoning
1 teaspoon Red Pepper Flakes
In a large pot add onions and meat and cook until no longer pink. Next add the green chilies, beans, tomatoes, and spices and stir until combined. Bring to a boil and then reduce heat to a simmer for about 10 minutes. Serve hot.
Have a great Tuesday!
What are your favorite leftovers?