So it looks like the unseasonably warm weather has left us, at least for a little bit. This morning it is downright chilly compared to the 75 degree temps that we enjoyed on Friday.
Since it was absolutely gorgeous on Friday, we couldn't stay cooped up in the house. Munchkin and I headed out to the park a bit after breakfast wearing shorts (him) and sandals (me)! I love going to the park on Friday mornings because it's a school day and the park crowd is mostly toddlers.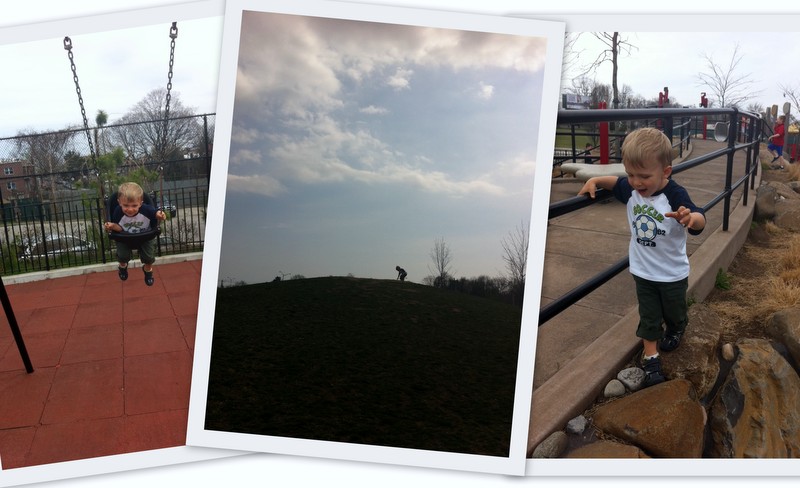 Munchkin even climbed the biiig hill in the park all by himself. That's him on top with me still only halfway up. The little guy is a brave and adventurous soul and I love it!
Saturday started out with a trip to the supermarket with my dad. No trip in my dad's car is complete without a backseat photo shoot.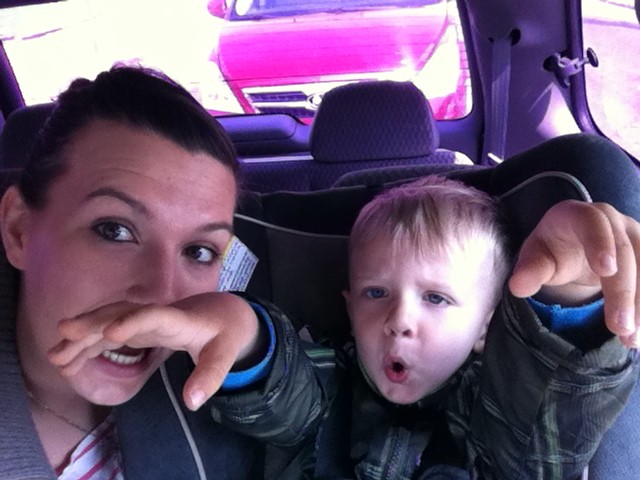 I picked up a bunch of new things to try at the supermarket like wheat berries, a kabocha squash and kale! I have some recipes planned for this week, if I can find the time to make them.
Saturday night was Hunger Games Date Night! I bought the tickets for the movie on Friday and could not wait for Saturday evening to arrive. We picked up our tickets in the theater before heading out to dinner at Shiro of Japan which is in the same mall as the theater. When I first looked up Shiro, it reminded me a lot of Arirang in PA because it was also a hibachi place with a separate sushi area in the restaurant. I was excited to try the place since it had good reviews.
We started out with Incredible Tuna and a Salmon Sundae for our appetizers.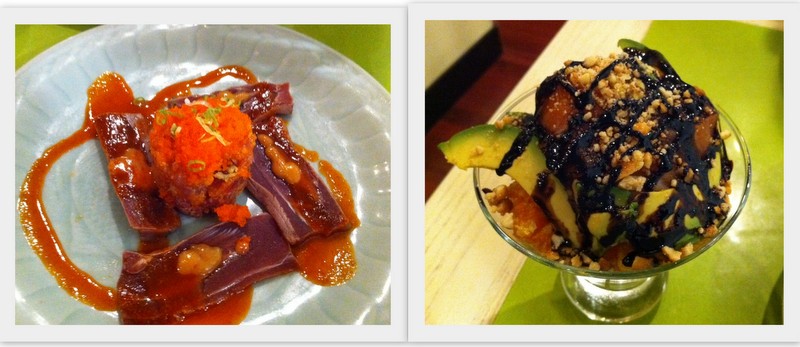 The Incredible Tuna was tuna tataki with spicy tuna tartar served with ponzu and miso sauce. It lived up to it's name – it was pretty darn good. The tartare was very spicy which I liked. The Salmon Sundae consisted of crunchy, crusted Peanuts and layer of fresh Spicy Salmon, topped with Avocado, sliced Salmon, and Balsamic Vinegar. I liked the Salmon Sundae even better than the Incredible Tuna, but I prefer salmon over tuna any day so it wasn't really a fair fight.
Since it was out first time at Shiro, we didn't really know what their portions were like. For our main entree, we shared the Sushi/Sashimi Combination for 2, which turned out to be bigger than we had expected.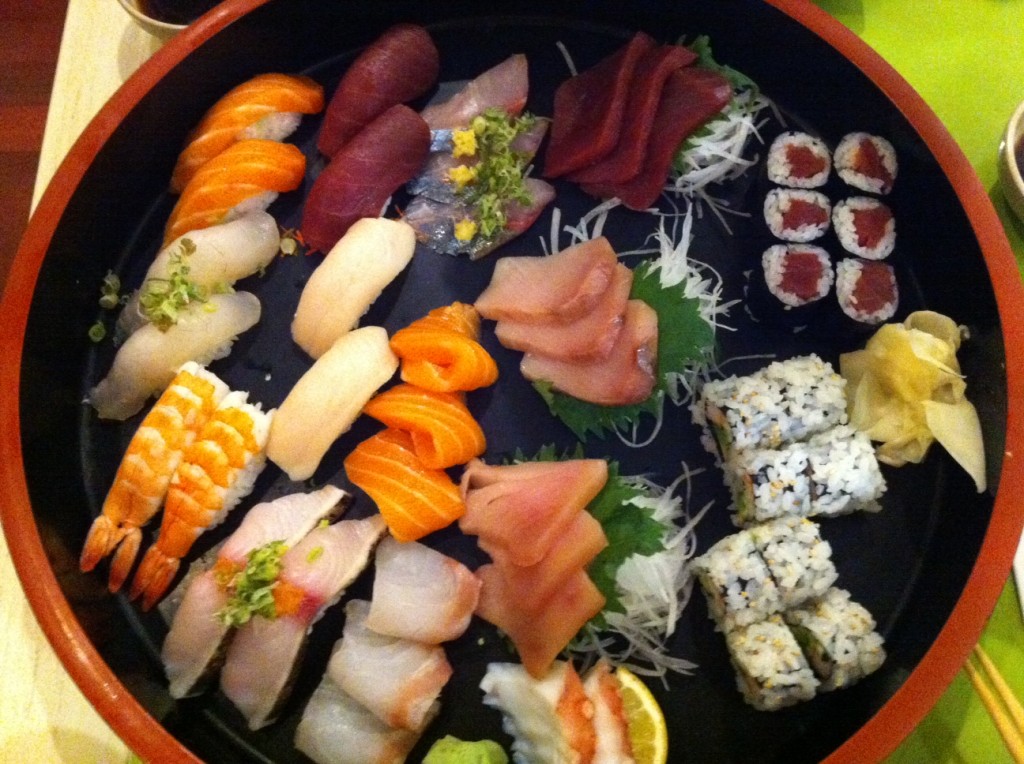 Along with regular soy sauce, our waitress brought out two more kinds of dipping sauce and recommended which fish to dip in which sauce. The fish was super fresh and tasty and we ate it all up. Needless to say, we weren't going into the Hunger Games hungry.
Even though there was still almost an hour left until our movie, we headed over to the theater, where a line had already formed.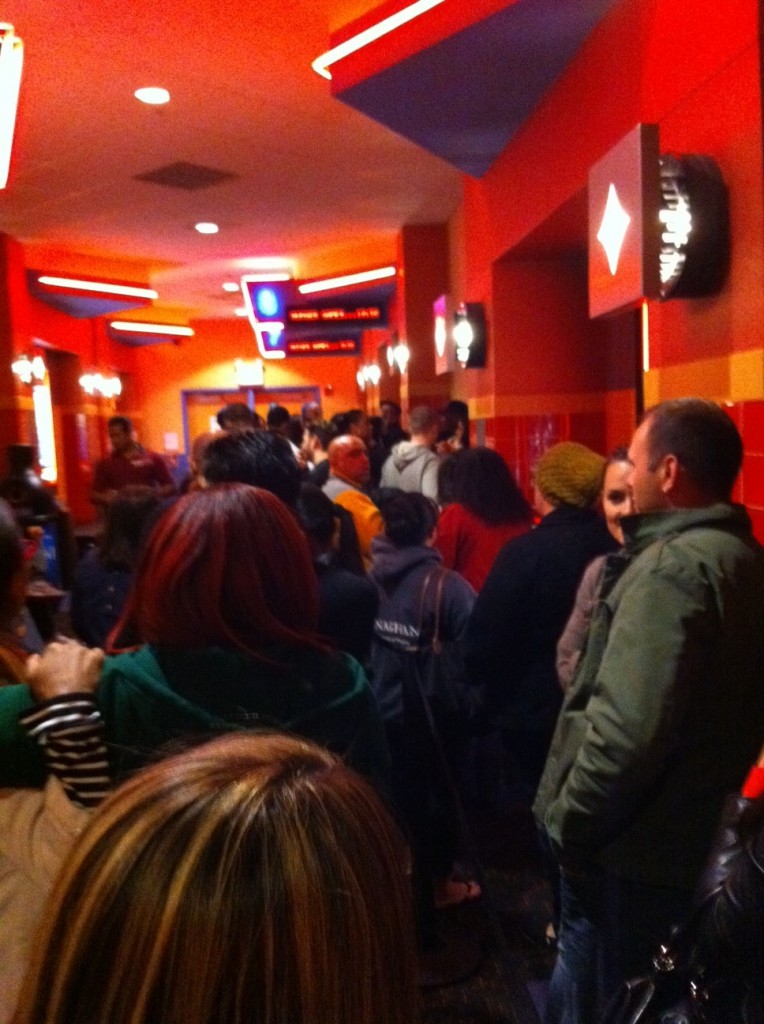 Luckily, we didn't have to wait for long because we were let into the theater fairly quickly. We snagged some great seats and waited patiently for the movie to start. I really enjoyed the movie, and Tommy did too. I read the books last summer while on vacation in Mexico and totally fell in love with the story. I thought the film was very well-made and Jennifer Lawrence kicked major butt playing Katniss. Even though I knew what was going to happen next, the film kept me on the edge of my seat waiting for the story to unfold. Even though it was over two hours long, it really felt like it flew by. I tend to suffer from popcorn brain and get bored during long movies, but this was not the case at all.  It really did the book justice in my opinion and I cannot wait for the next one!
Sunday was spent with Tommy's family for their family Easter party. There was lots of good food and great company and Munchkin left with 40 chocolate Easter eggs because Tommy's aunt is nuts and spoils Munchkin whenever she sees him. Luckily for me, Lent is not yet over, otherwise I know I would've broken into his stash already.
This weekend is definitely one of the best I've had in a while. Hope yours was great too!
What did you do this weekend? What's the last good movie you saw?