Another week, another Wednesday! We are halfway to the weekend and I cannot wait. Tommy and I are planning on spending the weekend in Philly. It's been a really long time since we've been there, and  I am super excited about it. If anyone has any recommendations of restaurants for us to check out, please share! We are looking for some place to go for dinner on Saturday night.
Since it is March and the month of St. Patrick's Day and all things green, WIAW is going green! This month's challenge is to add lots of green into your meals a.k.a veggies, not sour apple jolly ranchers (they were always my fav). BTW googling images of sour apple jolly ranchers will leave you with some strange results.
Keeping with the green theme, I tried to get my greens in and I think I did a pretty good job.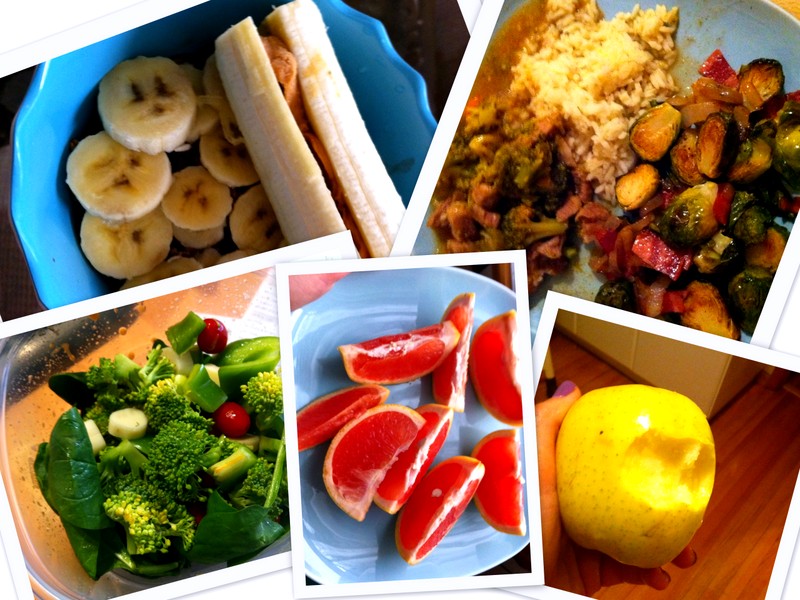 I started the day off with a big bowl of bananas. Just kidding, there is oatmeal under there, I swear! I also had the other half of the banana with a tablespoon of White Chocolate Wonderful PB. They aren't kidding when the call the stuff wonderful, it's so yummy!
For lunch, I went really green and made myself a big salad. Spinach, arugula, green bell peppers, cherry tomatoes, broccoli and a mozzarella cheese stick topped with Newman's Own Sesame Ginger dressing.
After work I came home and ate a grapefruit. Like I mentioned yesterday, I can't get enough of them. Luckily, my dad replenished my stash so I have enough to last me through the end of the week.
Dinner came together with the joint efforts of my father and I. He made Goulash using pork tenderloin, broccoli and carrots with a side of rice. I cooked up my fav Brussels Sprouts and dinner was a go.
After dinner, I had my online class. For some reason the class makes me go into snack attack mode. Luckily, the snacking wasn't horrible this time. I opted for an apple, which was kind of green, and a handful of (unpictured) craisins.
______________________
I got a glance of myself in the mirror while eating breakfast this morning to discover that I matched my bowl.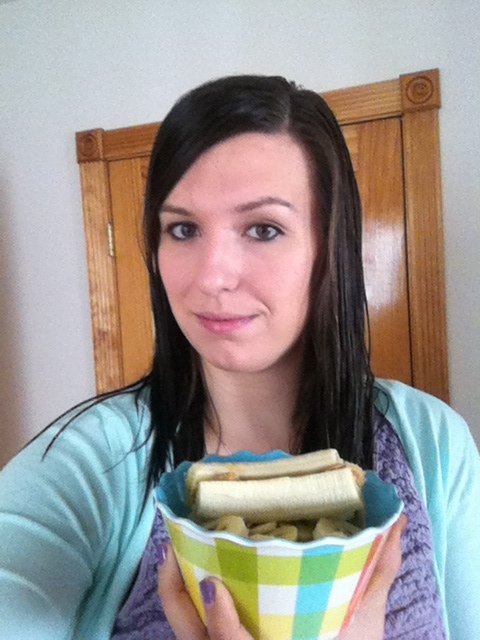 I may or may not have looked like a giant Easter egg at work today. At least my pants were blank and not pastel colored. Speaking of Easter, I am happy to report that I've been staying on track with my Lenten goals and have not had any chocolate or soda in two weeks. That is quite the accomplishment for me, so I am patting myself on the back. Only 26 more days until I can have a Cadbury Creme Egg. Hooray! I am expecting a big chocolate filled basket from the Easter Bunny (cough cough Tommy), or at least a few eggs for my patience and dedication. I hope not to drink soda regularly ever again. The stuff ain't good for you, you know! Now that I've shared that newsflash with you, I think its time to skedaddle.
Enjoy your Wednesday!
What's the best thing you ate today? Do you like to match your tableware?