Even though it was rainy and dreary, Munchkin and I had an errand list a mile long so we ventured out into the rain. Luckily, Munchkin was sporting the proper attire to protect him from the weather.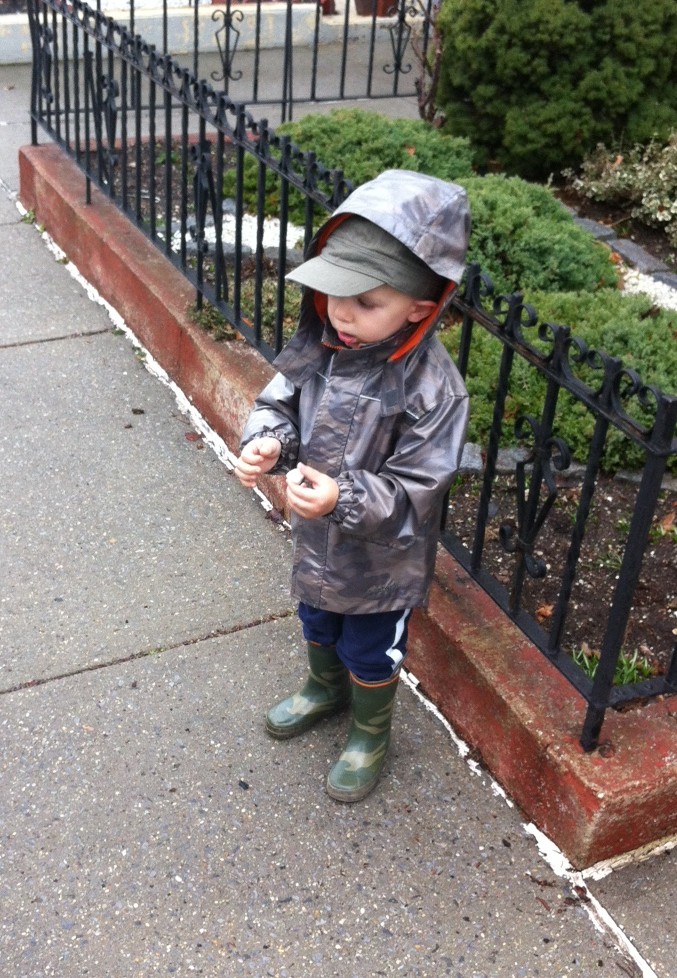 After hitting up the Asian Market, regular supermarket and Polish deli, we were back home and ready to get down to baking. Since Munchkin's birthday cake is going to be vanilla with buttercream frosting, I wanted to make something for the chocolate lovers. I followed the Cake Mix Doctor's recipe for red velvet to make these beauties. I topped them off with cream cheese frosting, because who doesn't love cream cheese frosting?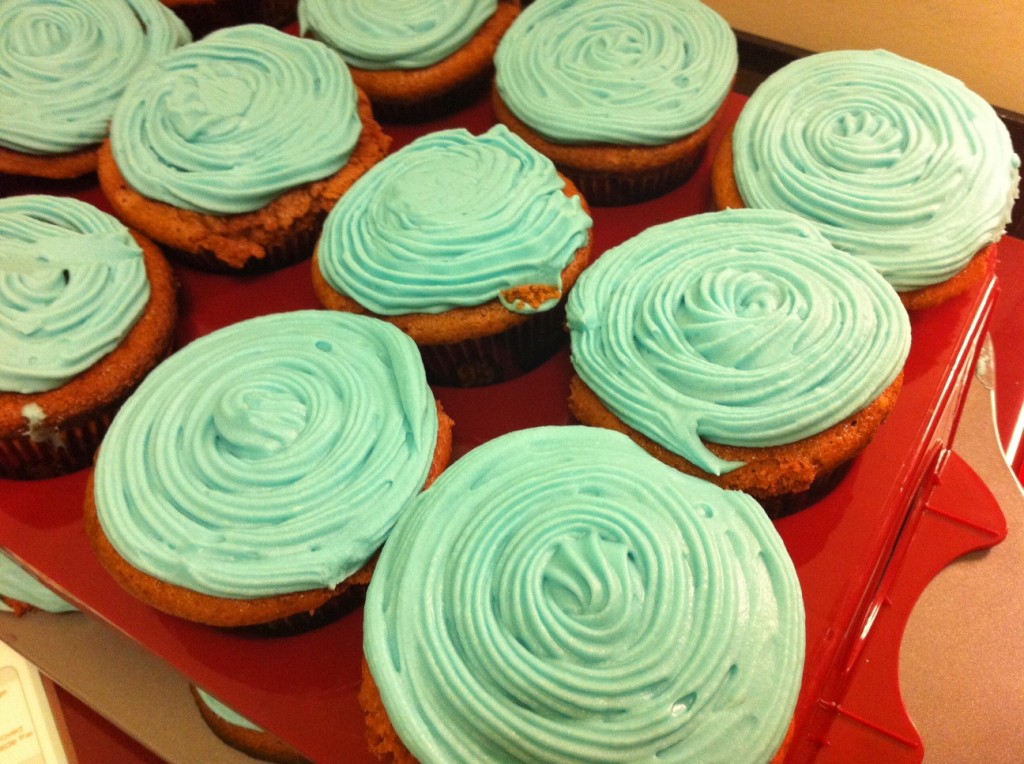 Red Velvet Cupcakes
1 package (21.6 ounces) yellow cake mix
1 package (3.4 ounces) vanilla instant pudding mix
1/4 cup unsweetened cocoa
1 1/4 cups milk
2/3 cup vegetable oil
3 large eggs
Red food coloring
Preheat the oven to 350 degrees F. Place 24 paper liners in cupcake pans and set aside. For the cupcakes, place the cake mix, pudding mix, cocoa, milk, oil, eggs, and red food coloring in a large mixing bowl and blend until just combined. Increase the mixer speed to medium and blend until smooth, 1 to 1½ minutes. Scoop the batter into the liners, filling them three-quarters of the way full. Place the pans in the oven. Bake the cupcakes until the cake springs back when lightly pressed with your finger, 20 minutes. Remove to a rack to cool.
Cream Cheese Frosting
1 8-oz. package room temperature cream cheese
1 stick (1/2 cup) room temperature butter
1 pound confectioner's sugar
1 teaspoon vanilla
Place cream cheese and butter in the bowl of an electric mixer fitted with the paddle attachment and beat until creamy, about 30 seconds. With the mixer on low, slowly add sugar, scraping down the sides of the bowls as necessary. Add vanilla and increase mixer
speed to medium. Blend until frosting is fluffy, about 1 minute.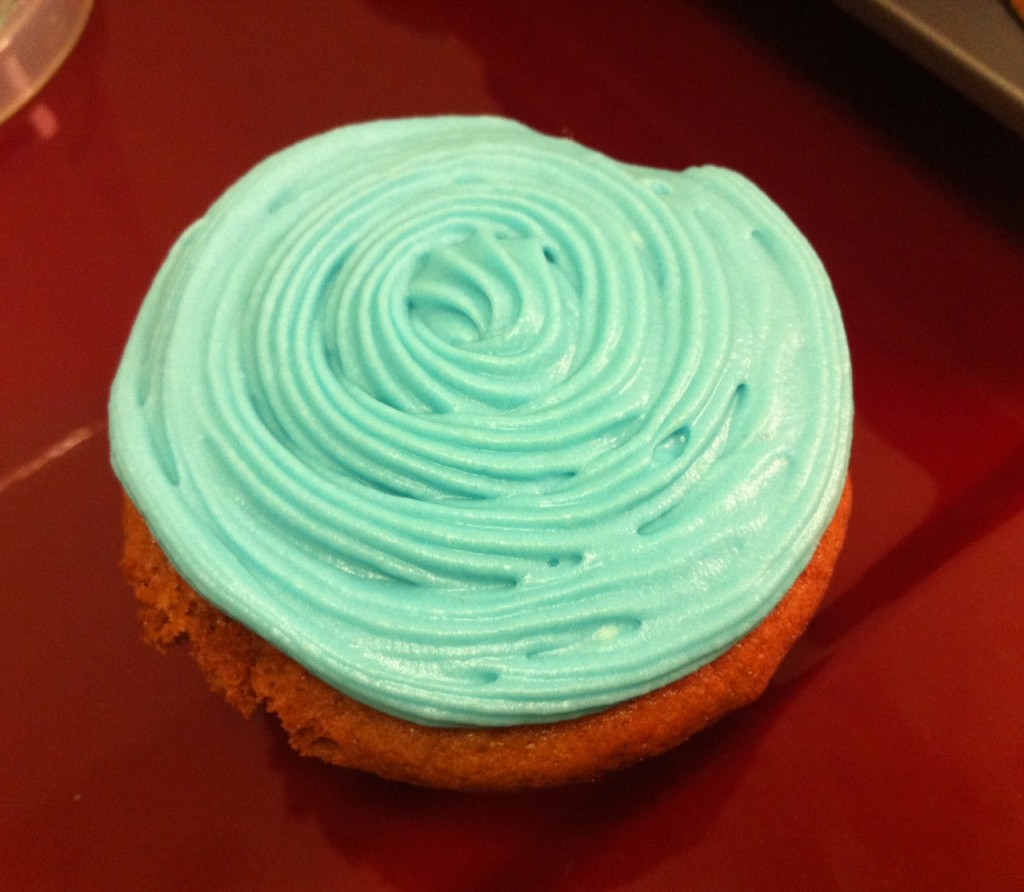 After the cupcakes were done, we moved on to decorating.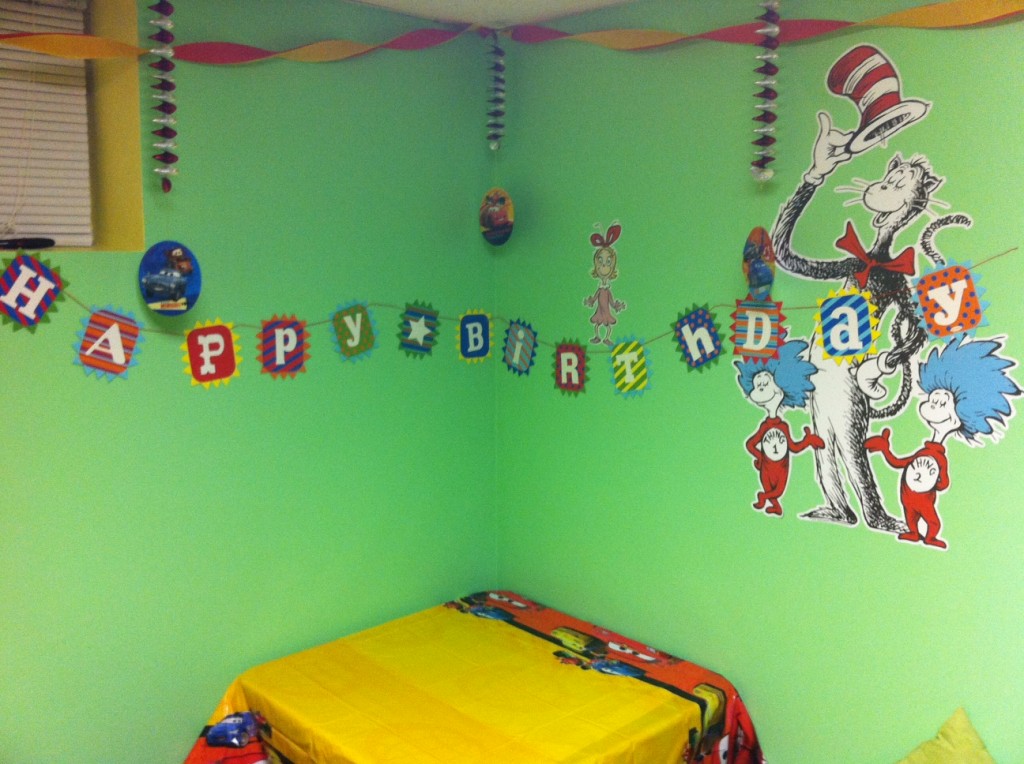 We only decorated the play room downstairs where the kiddos will be hanging out during the party. I still have to do the upstairs tonight. The rest of today will be spend in the kitchen. We are going to have a buffet style meal at the party and we decided to make it all ourselves. We are also making a few appetizers. Hopefully I remember to take some pictures to share with you guys tomorrow.
Have a great weekend! I'm off the kitchen!
What are your plans for the weekend?