This year to get in the Christmas spirit, I took part in the First Great Food Blogger Cookie Swap. The premise behind the swap was they you would get sent the addresses of three bloggers and you would bake up some yummy cookies to send their way while checking the mailbox constantly patiently waiting for your cookies to arrive from three other bloggers. If you'd like to join in on the fun next year, click here to add yourself to the mailing list for next year's swap.
For my cookies, I decided to make Peanut Butter Blossoms, with a twist. I got the original recipe from Martha Stewart.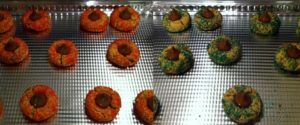 Ingredients
1/2 cup creamy peanut butter
4 tablespoons unsalted butter, room temperature
1 cup packed light-brown sugar
2 large eggs
1 teaspoon vanilla extract
1 1/2 cups all-purpose flour
1 teaspoon baking powder
1/4 teaspoon salt
1/3 cup granulated sugar, for rolling dough [I used red and green colored sugar]
25 Hershey's caramel kisses
Directions
Preheat oven to 350 degrees. Using an electric mixer, cream peanut butter and butter in a mixing bowl until smooth. Add brown sugar; beat until combined, scraping down bowl as needed. Add eggs and vanilla, and beat until incorporated.
In a small bowl, combine flour, baking powder, and salt. Gradually beat in flour mixture in two batches.
Scoop off dough by the tablespoon; roll into balls. Place granulated sugar on a plate; roll balls in sugar, coating completely. Place 2 inches apart on a nonstick insulated baking sheet.
Bake until cookies begin to puff up slightly, about 10-12 minutes. Remove from oven. Press one kiss in center of each cookie. Let cool at least 10 minutes on baking sheet before transferring cookies to rack to cool completely.
I love using caramel kisses instead of regular ones, because they melt up and get all gooey in the center. And who doesn't like some caramel in their life, right?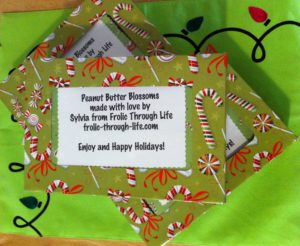 I also got some wonderful cookies from some great bakers.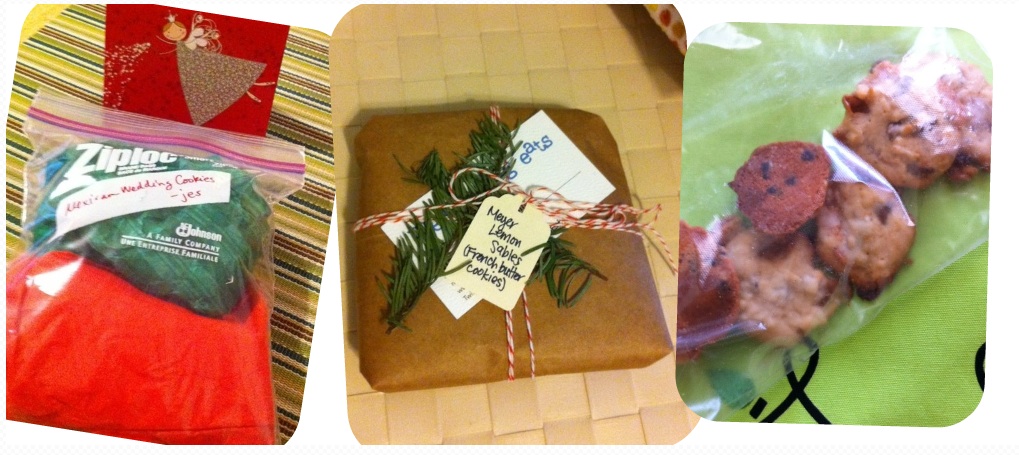 Head over to Cake FYI for her Coconutty Caramel Chocolate Chip Cookies, Meandering Eats for her Meyer Lemon Sables and Urban Sacred Garden for her Grandmother's Mexican Wedding Cookies.  All three recipes are seriously delicious and deserve some recognition!
Now to wait patiently until next year for the new swap!