Today is the day I've been waiting for, FOR MONTHS! I'm officially done with finals and have the next month off to relax and enjoy the holidays.
Speaking of holidays, it's beginning to look a lot like Christmas around my house, and I thought I'd share some of my favorite pieces of holiday decor.
First up, of course, is our Christmas tree. We've gotten a live tree every year for as long as I can remember, and for the last couple of years we have been going to a Christmas Tree Farm in the Poconos where you go out, find your tree, and cut it down yourself.  Talk about a fresh cut tree!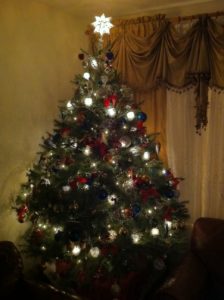 Some of my favorite decorations are actually on the Christmas tree – pine cone lights, ornaments and the star on top.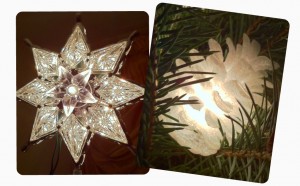 I love the look of the glowing pine cones scattered around the tree. I think it gives it a little extra something that normal lights don't give you.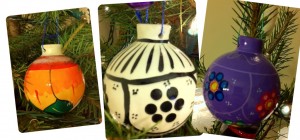 As much as I adore the look of a perfectly color coordinated magazine photo Christmas tree, I don't think it's something I would ever have in my house. I love buying different ornaments and having ornaments that have some kind of meaning behind them. The three above were purchased in Mexico and are hand-painted, clay ornaments. They really caught my eye in a gift shop and I knew they had to be mine.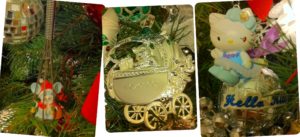 Mousey inside a whisk, for my inner baker,  Munchkin's Baby's First Christmas Ornament and Hello Kitty on a Disco Ball, just because I've loved that little cat since I was a girl.

Next, is my makeshift mantle AKA the top of our TV stand. I will have a gorgeous fireplace to decorate one day! The snowman in the left corner says that he was made with a little extra snow and turns around to shake his booty when you press the button. On the left is our Santa picture from last year. Munchkin was so terrified of Santa that I had to get in the photo with him. Hopefully, we'll be more successful this afternoon!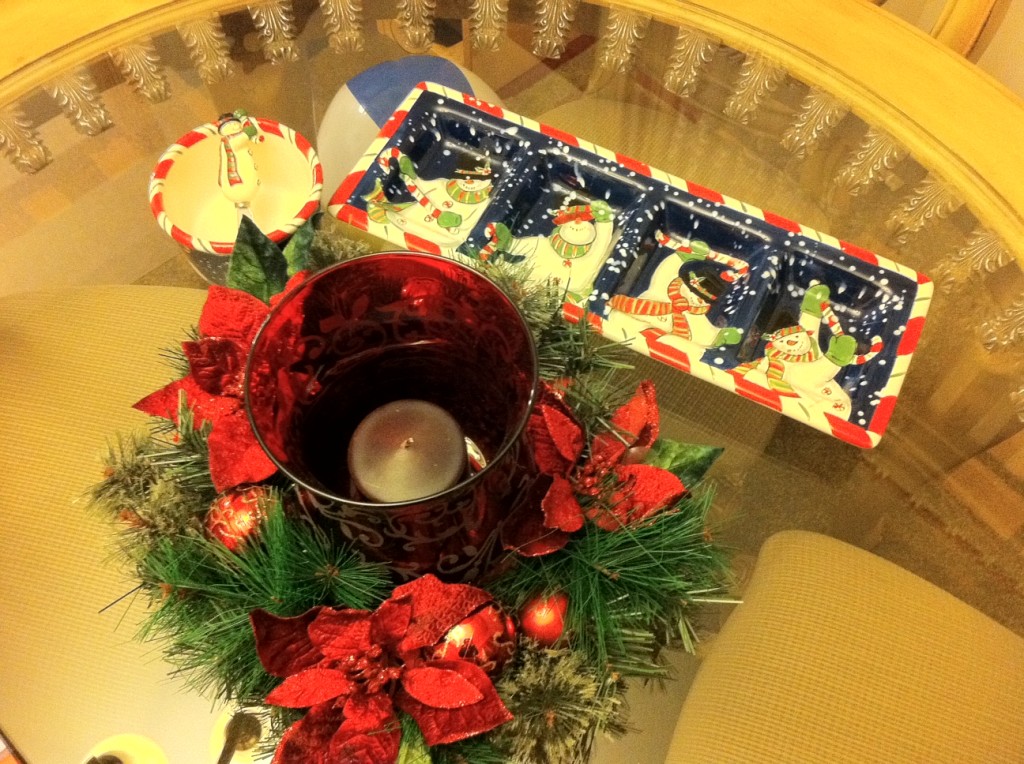 And last, but not least, are the decorations in my dining room. The serving dishes will be filled with lots of goodies during Christmas, but for now, they are empty not to tempt little hands.
We also decorated outside, but it's not dark enough to take nice pictures. You need darkness to get the full effect of Christmas lights. I also wasn't home when my dad decorated outside and I'm a little irked that he didn't wait for me. I'm a huge perfectionist when it comes to decorating.
Munchkin and I are heading to the mall today to bring in my laptop to hopefully, fingers crossed, finally get fixed. We are also planning a stop to see Santa. There also may be some gingerbread house constructing going on tonight. I'm so happy finals are done!
Have a great Thursday!
Do you decorate for the holidays? What are your favorite decorations?