In my family, I am the tour guide.  Anytime someone comes to visit from out of town, or in this case, out of continent, I'm the one who gets to show them the city. Luckily, I'm a nerd and love being a tourist in New York.
We got super lucky because the weather on Sunday was gorgeous and perfect for walking around in the city. We started out at 34th Street and walked our way up to Central Park. First stop on our list was Macy's Herald Square. Macy's already has their windows decorated for Christmas, and the displays this year are gorgeous.  They even have 3D TVs set up so one of the windows looks like the characters are flying out at you.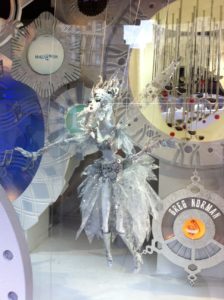 After admiring Macy's inside and out, we headed up to Times Square. We went into Toys R Us, where I had been with Tommy and Munchkin on Friday.  They didn't want to ride the Ferris Wheel, but they did like the Lego displays and the life size T Rex. We also hit up the M&Ms store, which is basically heaven on Earth. They have M&Ms in every color of the rainbow, and they have all the different seasonal flavors available year round.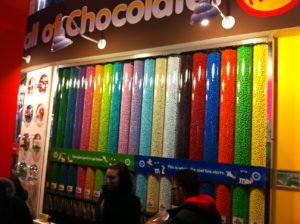 After getting our chocolate fill, we wandered up to Rockafeller Center.  The tree in Rochefeller Center is already up, but was hidden behind scaffolding becuase the lights are being put on it.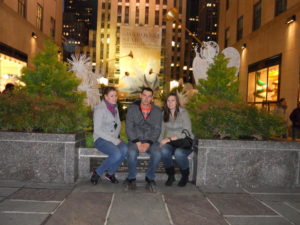 We also went up to the top of the Rock.  I've been to every public observation deck in NYC, and I have to say the Top of the Rock is my favorite.  It's the newest one and has three floors, both indoors and outdoors where you can take in the sights.  And believe me, there are sights to take in.
After that, we strolled up 5th Ave to Central Park. Most of the very fancy stores like Louis Vuitton, Fendi and Bergdorf Goodman already have their holiday displays up, so it was fun to look at. When we got to Central Park, it was already dark so we decided to head home instead of wandering aroudn the park in the dark.  While walking to the subway station, we noticed a huge crowd of people assembled outside the Beacon Theater and a limo with a police escort making it's way down 58th Street. We joined the huge crowd and caught some glimpses of Beyonce entering the theater.  It was a pretty cool way to end our day, especially since we had been joking that you have to run into someone famous when you come to NYC.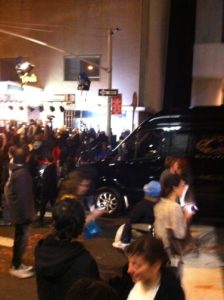 If you look really closely and squint, you'll see Beyonce in the distance. 😉
**********************
Now I'm off to the supermarket to do my Holiday shopping. I'm in charge of desserts so I'm making Pumpkin Cheesecake and Carrot Cake. I'm also in charge of stuffing and some of the veggie sides, so stay tuned for some recipes.
Have a great Wednesday and enjoy your Turkey Day!
Do you like being a tourist in your own town/city? Have you ever met/ seen a celebrity in real life?