Good morning everyone! I hope you had a great weekend because I sure did, even though my stomach had been acting up for most of the weekend.
I woke up on Friday with a really bad stomach ache and spent most of the day lying around, trying to feel better. By the time the afternoon rolled around, I figured it was time to get up and be productive.  First on the list was to take a walk with Munchkin because he had been cooped up inside all day along with me.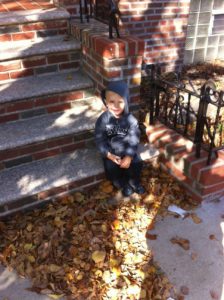 After out walk, Munchkin napped and I did some cleaning. After Tommy got back from work, we got some dinner at good old Sakura.  Since my stomach was still a bit off, I passed on the sushi and got a Chicken Teriyaki box which I shared with Munchkin.  The little man is crazy about sushi and ate almost all of the California Roll.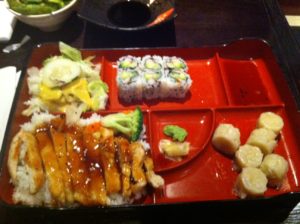 Saturday was a busy day with more apartment decorating tasks.  I woke up with tummy pains again, but this time instead of a constant pain like Friday, this pain came and went, but got really intense at times.  We started the day off at Ikea to pick up some more essentials Tommy was missing.  After Ikea, we headed over to pick up Tommy's couch which he was getting from his cousins. I got to spend some time with the cutest girl in the world, Arianna.  I can't believe she's going to be one in just two weeks!
After we transported the couch, we headed out for some lunch/dinner.  Since I was still feeling not too hot, I opted only for a bowl of chicken noodle soup and stole some fries from Tommy.  After we parted ways, Tommy and I hit up Bed, Bath and Beyond to get a few more things.  There also happens to be a Red Mango in the same mall as Bed, Bath and Beyond, so naturally I had to get some fro yo because my stomach had started feeling a bit better.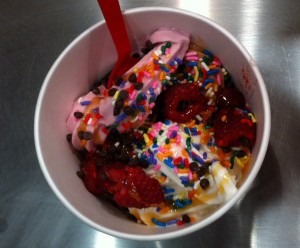 On our way home, we stopped at Stop and Shop for some groceries and picked up a DiGiorno frozen pizza to make when we got home.  Neither of us had even tried DiGiorno and we were both really surprised by how good it was.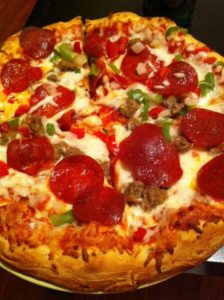 I also got a really interesting chocolate sample in my Birchbox this month.  It was called Firecracker and it was dark chocolate with pop rocks, sea salt and chipotle.  When I bit into it, the first thing you heard and tasted was the pop rocks, but one I started chewing all I tasted was the chipotle and it was spicy.  Kind of cool and weird all at the same time.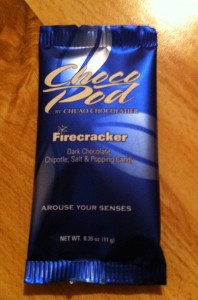 On Sunday, we slept in and decided to get breakfast at Fame Diner. Fame is probably one of the oldest places in our town, and it is pretty much packed every day, but especially on Sundays for breakfast.  I got one of my favorite diner breakfast things, Eggs Benedict.  The stuff is soo good, but so not good for you.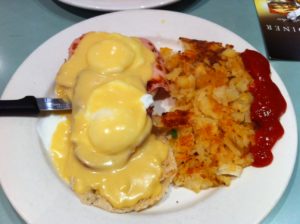 Later on in the afternoon, Munchkin had a birthday party to attend. After his nap, we got changed and ready to head over to Martyna's 3rd birthday.  What is it with these kids growing up so fast? I remember when this baby girl was born!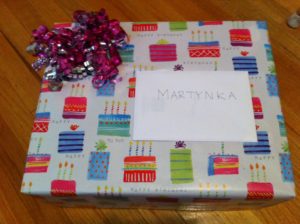 Munchkin had an amazing time playing with all the kids and eating his piece of cake all by himself. But, cake at 8 PM is not a good idea and Munchkin was on a total sugar high when we got home.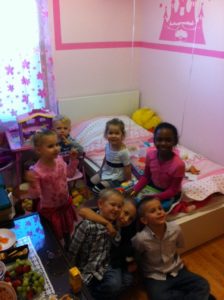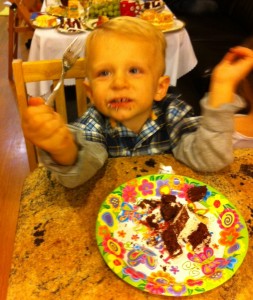 And last but not least, continuing with my Thankful November list, C is for color.  Color is the word I probably hear more than any other every day, with car coming in a close second. Munchkin is a budding artist and many days color is the first word out of his mouth when I go to get him out of his crib.
What did you do this weekend? What's your favorite diner dish?