I promised good eats yesterday and I am delivering. Don't you just love What I Ate Wednesdays, because I know I do. Without further ado, here's what I made and ate.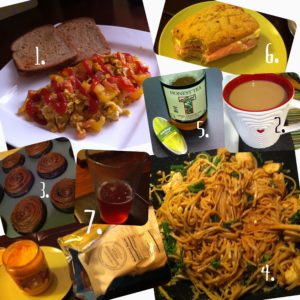 1. Started the day off with an egg scramble with yellow peppers and tomatoes. Topped, of course, with ketchup and a side of lightly buttered toast. Breakfast of champions my friends.
2. Coffee. My fuel. Self-explanatory.
3. I baked some delicious cupcakes [see below] and managed to only eat half of one. So proud of myself. 🙂
4. Din-din was Chicken Pad See Ew, one of my favorite Thai dishes which I've gotten pretty darn good at making myself.
5. Honest Tea and Green Tea Mints while waiting for my conference with my writing professor.
6. Tommy's leftover sandwich from lunch. Ham and cheese on a yummy roll with Boar's Head Horseradish Sauce.
7. A Dirty Ho and some chips with Con Queso Dip during the Rangers game.
I also drank a ton of water during the day, but who wants to see 10
pictures of water, am I right?
***************************
The cupcakes deserve a little more explaining. Thanks to the Foodbuzz Tastemaker Program, Duncan Hines, and Comstock, Tommy's coworkers are enjoying some Chocolate Cherry Cupcakes.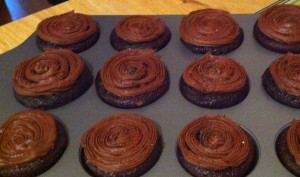 As much as I enjoy baking from scratch, Duncan Hines' Decadent cake mixes take the box mix to a different level. The mix comes not only with the regular cake mix, but with a pouch of fudge with chocolate chunks in it. Once you make the actual cake batter, you swirl the fudge into it and the results are pretty amazing.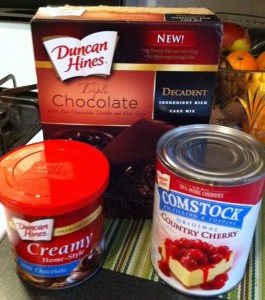 Once the cupcakes baked and cooled, I scooped out the centers and filled them with Comstock Country Cherry filling and frosted them with chocolate frosting.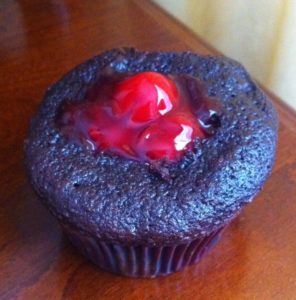 I also topped them with a sprinkle of colored sugar for a bit of prettiness.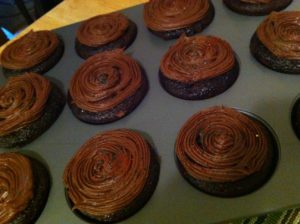 I know you wish you could reach through the screen right about now. 😉 I know I should've saved myself another one!
Have a great Tuesday!
What's the best thing you ate today? Do you like baking from scratch or do you use cake mixes?