I'm not usually one to brag, but I'm pretty excited and thought I'd share. In class yesterday, my professor handed back our last two in-class writing assignments and I'm proud to say that out of the four we've taken so far, I've had the highest score on 3 and the second highest one 1. I'm on my way to an A and I couldn't be more excited because law school is not easy.
Now that I've successfully inflated my own ego, let's get on to the good stuff…food! I made crab salad for lunch yesterday.  Crab salad is something that my mom has been making since I was a kid, but I'm not sure where she got the recipe from because this is definitely not a Polish dish. As a kid, I didn't like this salad because it has bell peppers in it, which I used to hate. Now that I can't get enough peppers, especially yellow and orange, I can't get enough of the salad either.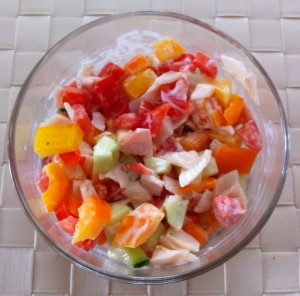 Crab Salad
1 package artificial crab meat
3 medium bell peppers, any color you chose
2 tomatoes, seeds removed
1 large cucumber, seeds removes
1 bunch scallions
salt and pepper to taste
3-4 tablespoons mayonnaise (I usually half this with plain Greek yogurt, but I was all out)
Dice all the veggies and combine them in a big bowl. Chop the crab meat into chunks bigger than your veggies, and add to the veggies. Season with salt and pepper to taste. Add mayo/yogurt and enjoy!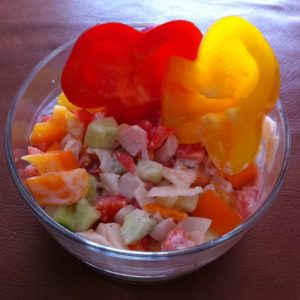 I love the look of the salad because of all the brightly colored veggies.
I have some more happy news to report. My Halloween costume arrived yesterday, and while I am making some alterations to it, it already looks great. I can't wait to show you guys what we're going to be!
Have a great Wednesday!
What are some foods you hated as a kid, but love now?
P.S. I updated the About Me, Recipe and 101 in 1001 pages. Check em out!