Fall has returned to New York with a vengeance.  While I LOVE the cooler temps and the crisp air, I do not love the rain. Too bad it's going to be raining for the next three days! Joy!
When I wake up to a cold, rainy day all my belly wants is some warm, gooey, comfort food. After perusing my fridge and pantry, I discovered that I  had everything I needed to make lasagna. Lasagna is a food that my mom would make when I was a kid, and once again, I don't know where she got the recipe from because this isn't exactly a traditional Polish food.
I love the idea of hiding veggies in foods that are typically considered not too great for you, and that's what I do with my lasagna. Instead of using a whole box of lasagna noodles, I use half and swap in zucchini slices in some layers in place of the noodles.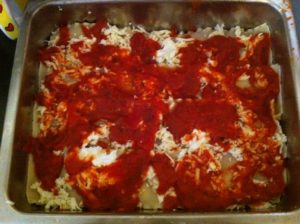 Lasagna
1 pound ground turkey
salt and pepper to taste
1 teaspoon oregano
1/2 box lasagna whole wheat lasagna noodles
1 large or 2 medium zucchini
1 pound shredded mozzarella cheese
15 oz container ricotta cheese
1 jar spaghetti sauce
Preheat over to 400 degrees. In a large pot, salt water and bring to a boil, add noodles and boil until al dente. In a skillet, brown the ground turkey. When the turkey is browned, add three tablespoons of spaghetti sauce, salt, pepper and oregano. Slice the zucchini lengthwise into long strips resembling the lasagna noodles.  Drain the noodles. In a large pan start the layering process with a base layer of noodles. Top with 1/4 turkey, cheeses and sauce. Alternate zucchini slices and noodles between the layers. Cover the pan with tin foil and bake for on hour.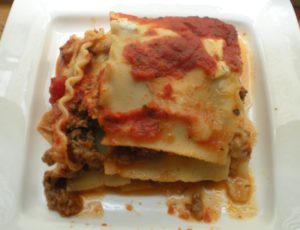 While lasagna doesn't photograph very well, it tastes amazing. The zucchini bakes up and it almost indistinguishable from the noodles.
I wanted to share an article that I stumbled upon yesterday about the Octomom. If you remember, the Octomom is the lady who gave birth to octuptlets a few years ago, while already having six older kids. This article talks about how she is disgusted her children and wishes she had never had them because she can't control and discipline them.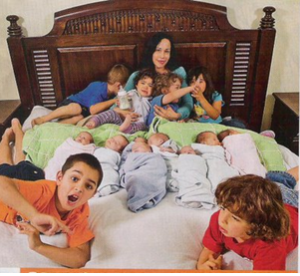 Reading the article made me really sad, because she went out of her way to have all these children as a single mother and now she can't control them.  The poor kids never asked to be brought into this world and now will know for the rest of their lives that their mother wishes she never had them.  I also feel like she brought them into the world for media attention and her plan of become famous backfired and now she's miserable. I've seen her in TV interviews before and she seems like she's not all there. I hope she gets the help she needs for her own sake, and the sake of her kids.
I gotta run now, I'm going to Sears to pick up my new dishwasher! I've been dishwasherless for almost two months since our old one broke.
Have a great Thursday!
What's your favorite comfort food? How do you incorporate veggies into otherwise, not so healthy recipes? What do you think of the octomom's comments about her children?