I had glorious plans for today. Munchkin and I were going to go to the farmer's market, get some fresh fruits and veggies and make a yummy dinner to us to enjoy. Sadly, that couldn't happen. Why, you may ask…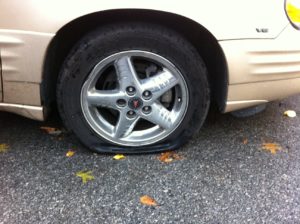 We made a quick run to the supermarket yesterday and on our way home, instead of going around the pothole like I've done a hundred times since it appeared on the road, we fell in. We fell in real hard.  When I heard the boom, my heart dropped and I expected a flat.  Since I was only two block from home, I didn't pull over figuring I could make it home.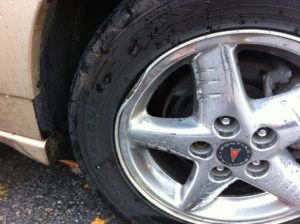 To my dismay, it was not only a flat, but my rim was bent. Being the princess I am, I left it and waited for Tommy to get home to fix it. (In my own defense, I made dinner so we're kinda even.) While changing the tire, he discovered that the safety lock on the tire was broken.  After about a dozen attempts to get it off, we decided to drive over to the nearby gas station and have them remove it with the impact gun. Great idea, except for the part where the impact gun broke the cap in half and the mechanics had to basically chisle the tire off for upwards of a half hour.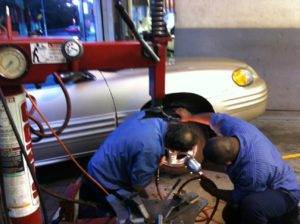 At this point the only thing running through my mind is…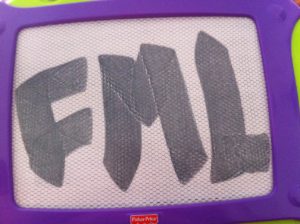 Luckily, they got it off and since we frequent to station often, they wouldn't accept any money for it either.  Needless to say, I will be baking up some goodies to drop off for them on Monday because they were so so kind.
After a stressful afternoon, we decided we needed some cheering up and if you ask me,there's no better way to cheer me up than with ice cream. Eddie's Sweet Shop is over 100 years old and is an old fashioned ice cream parlor, serving up some delicious ice cream and milkshakes.  They also have a candy counter with tons of different candy, including vintage treats that aren't really sold in stores anymore.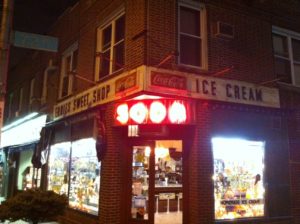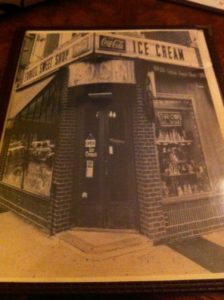 Tommy opted for a milkshake and Munchkin and I attempted to finish a banana split. We had never gotten a banana split before and the thing was HUGE.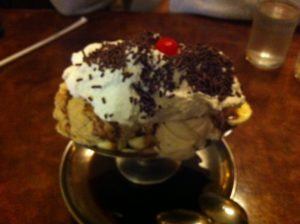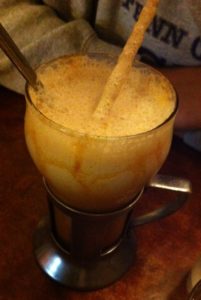 It was a great way to relax and forget about the day's not so exciting events.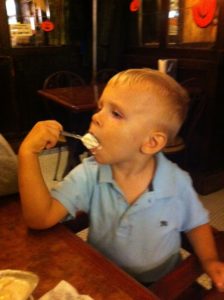 Now I need to figure out what to do with my bent rim. Decisions, decisions. Hopefully, the rest of my weekend will be a little less eventful.
Have a great weekend!
Have you ever gotten a flat tire? What's your favorite ice cream shop?